​Facebook plans to spread web access with 'drones, satellites and lasers'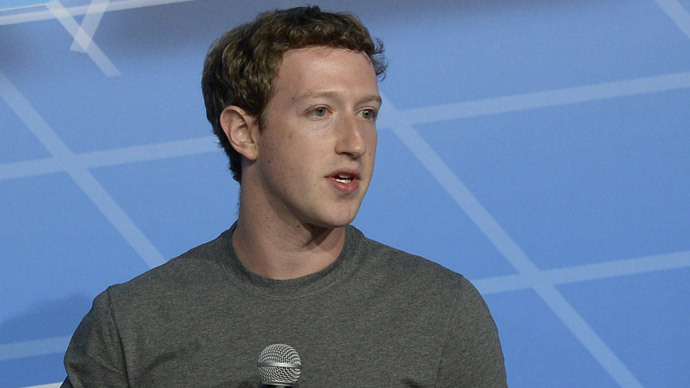 Facebook has announced an ambitious plan to use drone, satellite and laser technology "to deliver the internet to everyone" via the preeminent social media site's Connectivity Lab project.
Facebook Inc's Chief Executive Mark Zuckerberg said Thursday that the effort – dubbed Internet.org – to offer web access throughout the world will be led by aerospace and communications experts from the likes of NASA's Jet Propulsion Lab and its Ames Research Center.
"Our goal with Internet.org is to make affordable access to basic internet services available to every person in the world," Zuckerberg said in statement.
"We've made good progress so far. Over the past year, our work in the Philippines and Paraguay alone has doubled the number of people using mobile data with the operators we've partnered with, helping 3 million new people access the internet."
Zuckerberg said Facebook has hired "key members" of Ascenta to help with the effort's "connectivity aircraft." UK company Ascenta is responsible for developing Zephyr, the longest flying solar-powered drone in the world.
Facebook is teaming with top telecom firms like Nokia and Qualcomm in the Internet.org partnership.
Zuckerberg gave few details on the time frame for such an ambitious effort while hinting that there's plenty of work ahead.
"We're going to continue building these partnerships, but connecting the whole world will require inventing new technology too," Zuckerberg said.
Zuckerberg has said his plan is to "connect five billion people" in the world who lack internet access.
Google Inc. is also spearheading an effort – called Project Loon – to increase affordable internet access worldwide. Their plans, announced last year, center around the use of solar-powered balloons.
Earlier this month, TechCrunch reported that Zuckerberg is interested in acquiring American-based aerospace company Titan Aerospace — a deal that is believed to be worth as much as $60 million.
Titan Aerospace is responsible for making near-orbital, solar-powered drones. According to TechCrunch, the deal could net Facebook 11,000 small unmanned aerial vehicles.
Facebook's new arsenal would be composed of Titan's "Solara 60" UAVs, an aircraft that can carry a payload of 250 pounds apiece.
Yet Zuckerberg made no mention on Thursday of Titan or any specifics on Facebook's drone use for the connectivity project.
You can share this story on social media: