Solar-powered drones from Facebook could deliver internet around the world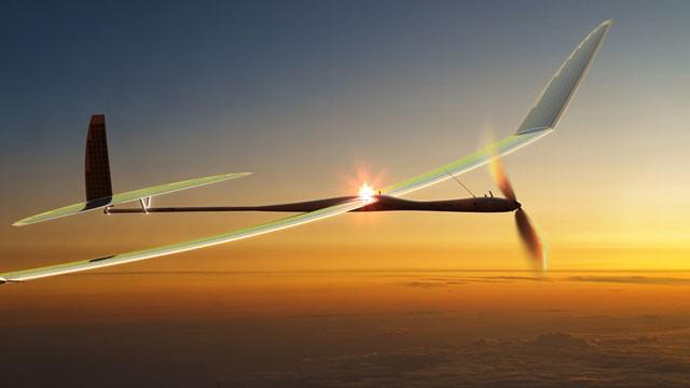 Facebook is reportedly in talks to take over an American-based aerospace company, and if so the social networking site could soon have its fleet of drones delivering the internet to currently unconnected people across the world.
TechCrunch was the first website to report this week on rumors that Mark Zuckerberg's Facebook is interesting in acquiring Titan Aerospace — a deal that is believed to be worth as much as $60 million.
But while that hefty sum isn't exactly chump change, it's just a fraction of what Facebook has spent on other acquisitions recently: Facebook bought mobile photo app Instagram for $1 billion in cash and stock in 2012, and only weeks ago forked over nineteen-times that to acquire the rights to the WhatsApp program.
This time, however, Facebook could be getting its hands on some drones, and ideally harnessing the abilities of those unmanned aerial vehicles to bring the internet to the estimated 2.7 billion people currently without access.
Titan Aerospace is responsible for making near-orbital, solar-powered drones, and TechCrunch says Facebook could be spending millions of dollars to acquire the company and get around 11,000 of those small UAVs in return.
According to TechCrunch, Facebook's new arsenal would be composed of Titan's "Solara 60" UAVs, an aircraft that can carry a payload of 250 pounds apiece.
On the Titan website, the company explains that these drones can be used for anything from weather monitoring to disaster recovery to earth imaging, and provides customers with "easy access to real-time high-resolution images of the earth, voice and data services, and other atmospheric-based sensor systems."
"Titan Aerospace is revolutionizing near-earth applications for dozens of industries," they claim. "The ability to park a stationary payload directly above a point is opening dramatic new possibilities and is redefining the landscape. Titan goal is to create products that not only deliver groundbreaking functional benefit but also deeply inspire us on an emotional level."
Without a doubt, though, most remarkable is that each aircraft is outfitted with solar panels that are capable of generating enough energy to keep a single drone in the sky for five full years. TechCrunch says that Facebook would likely be pursuing the project since it is already heavily involved in the Internet.org initiative, "a global partnership between technology leaders, nonprofits, local communities and experts who are working together to bring the internet to the two thirds of the world's population that doesn't have it," and could likely do as much with the help of internet-ready drones.
"If Facebook could project weak but free Internet to developing nations via Titan Aerospace drones, it could then make a basic version of WhatsApp available to those users. They may not be able to send or view photos, but they likely could send messages and view status updates, even if they only had a weak, slow connection," Sarah Perez and Josh Constine wrote for TechCrunch on Monday.
"If Facebook can use Titan's drones to be someone's first experience on the Internet, they're likely to get deeply hooked into the social network's service and eventually become a lucrative lifetime user," they wrote.
Facebook and the Internet.org initiative aren't the only ones aiming to increase web access across the world, though. As RT reported last month, New York's Media Development Investment Fund (MDIF) is bankrolling an "Outernet" project that, if successful, would rely on tiny, orbiting satellites, or "CubeSats," to beam down the internet to users with similar, high-flying devices. Until the engineers there receive around $12 billion in desired funding, however, that project isn't likely to get off the ground.
You can share this story on social media: