No sex on Wall Street? Explicit emails force WSJ reporter to resign
Published time: 8 Jun, 2012 16:04
Edited time: 14 Jun, 2012 15:03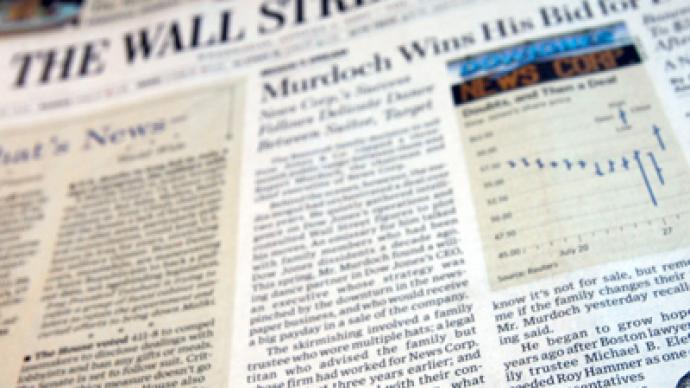 A reporter with the Wall Street Journal has resigned from the paper this week after emails surfaced romantically linking her with a former George W. Bush adviser currently being considered by President Obama to be America's ambassador to Iraq.
Journal staffer Gina Chon has officially walked away from her roll with the major US paper managed by Rupert Murdoch's News Corp. after leaked emails published on the Web revealed to the world that, while on assignment in Iraq, the reporter forged a sexual relationship with one of the very White House officials she was dispatched to cover.
The Journal claims that Chon "failed to disclose to her editor" that she entered into a relationship with Bush advisor Brett McGurk while the two were overseas in 2008. The paper also believes that the reporter shared "certain unpublished news articles" with the official in clear violation of the Journal's company policy.
"Gina Chon agreed to resign this afternoon after acknowledging that while based in Iraq she violated the Dow Jones Code of Conduct by sharing certain unpublished news articles with Brett McGurk, then a member of the US National Security Council in Iraq," a Dow Jones spokeswoman says in a statement released Tuesday.
Many of the emails leaked to the Web were sexual in nature and some humorously hinted at exchanging sexual favors for access to information; in one correspondence, McGurk tells Chon, "I totally have rank to get in here" while inviting her to a dinner with a top Iraqi politician; in another, McGurl writes, "From my first message to you through our Chinese dinner to the blue balls banter and then my coming over to hook up with you for the first time . . . I am so fucking smooth!"
Both Chon and McGurk were married to other individuals at the time but have since divorced their former spouses and wed each other. McGurk is currently pegged to be US President Barack Obama's nominee to serve as his country's ambassador to Iraq. Though the Journal believes that Chon disclosed information on unpublished articles with McGurk, it is not yet clear if he had shared any classified intel with the reporter.