Bizarre 'Women for Herman Cain' campaign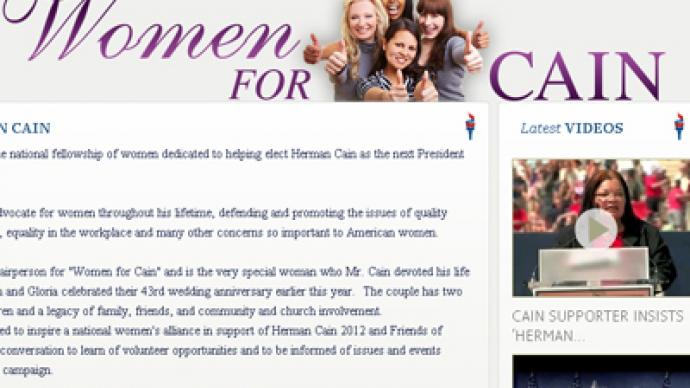 Did Herman Cain act sexually inappropriate with a few (how many has it been now?) women? While the presidential hopeful tries to close the lid on that one, dozens of women are apparently logging onto his website to show their support.
They are the Women for Herman Cain. And they are real. Apparently.At what first appears to be the most brilliant Anonymous-led political hack ever, a bizarre new page on HermanCain.com sprung up literally overnight. In it, Cain and company have tried to recapture the women's vote with an unusual campaign called Women for Herman Cain. Gloria, his elusive wife, is chairing the group."'Women For Cain' is an online national fellowship of women dedicated to helping elect Herman Cain as the next president of the United States," reads a mission statement on the site. "Mr. Cain has been a strong advocate for women throughout his lifetime, defending and promoting the issues of quality health care, family, education, equality in the workplace and many other concerns so important to American women."Depending on who you ask, however, Cain has also been a strong advocate of groping staffers in the back of his limo.The page, which has managed to spiral all over the Web in mere hours, asks female friends of Cain to submit video testimonials encouraging the pizzaman's campaign. As they collect submissions, a barrage of oh-so-authentic (and almost always hilarious) text excerpts from his loyal fan base of ladies are posted for Cain followers to see what kind of crowd they are messing with each time they deliver a new 999 joke.Clearly the Cain campaign has an editor picking what can go online and what can't, but given their selections, it seems like they didn't go much further than the nearest Godfather's Pizza to staff their Web team.One thing the comments do seem to have in common, however, is an almost-constant slandering of his accusers.According to the New York Daily News, which broke the story, one California woman writes, "Dear Mrs. Cain, Don't pay attention to these pathetic husband-less women who are jealous of women like you in happy long-term marriages.""I cannot believe you had time for an affair. If you are ill and fighting for your life,suffering through chemotherapy,how can you have time between hospital visits and family time? Wouldn't you be too sick to participate in a make-believe affair?" Asks a Missouri woman. "I believe these 'women' are looking for money and attention and have been groomed by the 'Demonacrats' to be a bunch of bad actress."For other Cain campaigners, they just think he's super."Sir, I firmly believe that you were sent to our nation through Divine Providence and I believe that you are the man to preserve our Republic for our children," writes Robin Haraway from Tennessee. Yvonne Settlemire from Arizona adds that the candidate has her support because "He the only one that wants to talk about the REAL issues."One doesn't have to dig much deeper than an interview with GQ that the candidate cut three weeks ago in which Cain tackled such dire foreign policy questions with answers such as, "A manly man don't want it piled high with vegetables! He would call that a sissy pizza."Alright, so maybe that wasn't in response to a question on foreign policy, but you get what I'm saying.Other testimonials range from quick quips of support to lengthy, detailed diatribes about the gentleman that is Mr. Cain."How can We the People choose who WE want (you!) if you allow them to run you off?" asks Debbie Stevens-Paulsen from Oklahoma. "Gingrich has DONE all the things they're accusing you of, and Romney is a RINO.. we call him Obama Lite. PLEASE don't give up. Speak up loud and clear that you are not giving up, and please let Gloria speak out again. I'll admit that when I heard that you sent $ to a woman w/out your wife knowing, it gave me pause.. I wouldn't appreciate my hubby sending $ to another woman w/out my approval… but then I thought about and discussed it with everyone I know. We came to the conclusion that you're a good man worth the benefit of the doubt. We figure that you're probably a very busy man who comes in contact w/ tons of people daily, and that you probably both have friends the other isn't friends with, and that you have helped other people, men and women, without discussing it, because that's just what you do, you're a softie (stop that now!) and got taken advantage of. That happens." "I have NO doubts about you after thinking and praying about it," adds Debbie.Can the Cain Train keep on rollin'? With these gals on board, there's no telling.
You can share this story on social media: