Kim Dotcom claims US spied on him through Echelon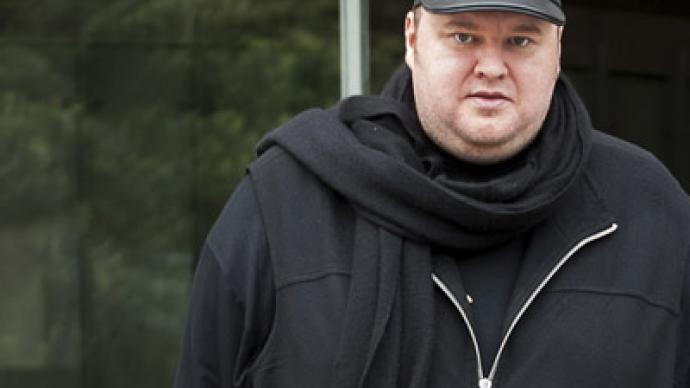 In the latest episode of the ongoing saga of accused criminal mastermind Kim Dotcom, the Megaupload founder says he suspects that the illegal intelligence New Zealand authorities collected on him was shared in real-time with American authorities.
The US government says Dotcom masterminded a multi-million-dollar copyright infringement conspiracy by running the Megaupload cyberlocker, and although the authorities refuse to release any evidence of the alleged wrongdoing, Dotcom says he thinks he was illegally targeted by a secretive snooping-collective with an international reach. New Zealand's Inspector-General of Intelligence and Security has already determined that the country's spy agency, the Government Communications Security Bureau (GCSB), illegally monitored Dotcom when they subjected him to a rigorous undercover investigation reserved only for foreign nationals in the months leading up to the January 2012 raid on his home and his subsequent arrest. As a citizen of New Zealand at the time, the Germany-born Megaupload founder was targeted unlawfully and all intelligence gathered on him is now being brought into question. Speaking to the TorrentFreak website this week, Dotcom says the GCSB's intricate involvement in the global Echelon intelligence network could have let US authorities come into possession with his personal communications."The interesting part is that the GCSB is one of the five partners in the Echelon project, the global spying project," Dotcom says. "They are prying on every type of communication they can get their hands on, from wireless, to Internet, to satellite, to telephone."Last month, author and journalist Nicky Hager told Fairfax New Zealand News that the GCSB agents hired to conduct surveillance are "not spies in the normal sense" who have an array of technologies in their arsenal to monitor Dotcom's activities. By locking into the Echelon network, Hager said the GCSB could "actually just plug in his email address, his name, his company name whatever and see what comes off it."Dotcom says he suspects the evidence the GCSB collected on him was fed into Echelon and offered to Americans on-the-spot, but says this could actually help his argument, "because all you can hear is that we were trying to do the right thing." "The GCSB was utilized to surveil all my communication in order to give the U.S. Government full access to all my communication, without the requirement of a warrant, and without the ability for me to get access to transcripts or discovery," Dotcom adds to TorrentFreak. "The US has used this GCSB surveillance to get real-time access to my phone calls, Internet traffic and everything, and I can't do anything about it. They refuse to cooperate with the court and say it's all national security,"The US is refusing to reveal the intelligence, however, despite their case against the file-sharing kingpin not advancing further than the indictment that has been unsealed since early 2012. In a separate matter, Dotcom's attorneys have hit another roadblock in their effort to have that indictment dropped, with the US Justice Department declining to play by their own rules as they try to keep their quickly collapsing investigation from fizzling to nothing. Attorneys for Dotcom have argued that the US must serve a company charged with a federal crime at their last American mailing address, but Megaupload never once operated out of the US."To this court's knowledge, no court has ever dismissed an indictment for failure to meet Rule 4's secondary mailing requirement," Judge Liam O'Grady ruled last week when he dismissed the defense's argument.Dotcom's attorneys first argued in July that "The Government bears the burden of proving that it has validly served Megaupload within the letter of the Rule… and effectively concedes it cannot carry it."Earlier this week, Dotcom's US-based attorney Ira Rothken told the Inquirer, "Now that these procedures are coming under scrutiny they appear to have violated the law at nearly every part of the process," adding, "From an illegal search warrant to what we believe is an illegal military style raid, to illegal data sharing with the US, illegal spying and ultimately what we believe is an overbroad takedown of the entire Megaupload enterprise."
You can share this story on social media: