Kim Dotcom speaks out on secret anti-piracy report to RT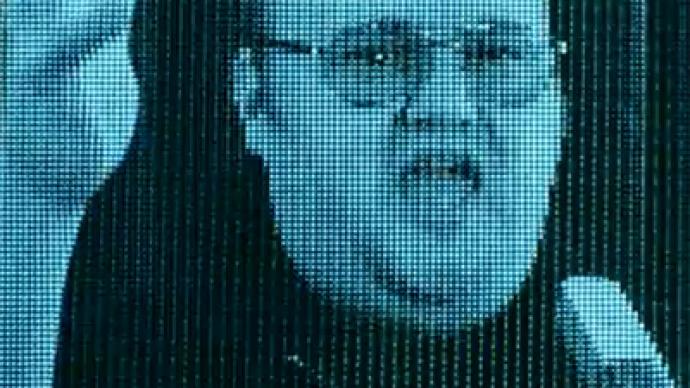 A major music industry organization's anti-piracy report has been leaked to the Web, and its content suggests that charges waged at Megaupload have been exaggerated by its critics. In an exclusive interview with RT, Kim Dotcom weighs in.
An international copyright case targeting Megaupload.com and its founder, Kim Dotcom, have made both the website and the man behind the operation not just enemies of the FBI and music industry but also household names this year. The January arrest of Dotcom, the concurrent raid of his New Zealand mansion and the seizure of his immensely popular file locker site made headlines around the globe, but more than six months later the FBI and the entertainment industry trade groups spearheading what some call a witch-hunt have been burdened with continuous roadblocks. In turn the case has spawned relentless rumors that their argument against Mega has been killed before it could ever be brought to trial.
A new report just leaked to the Web suggests that Megaupload was actually among the more law-compliant of the major sites that allegedly facilitated piracy, bringing yet another minor victory to Dotcom and his associates as they try to dismiss allegations of copyright infringement.
A memo penned for the International Federation of the Phonographic Industry (IFPI) by Mo Ali, the organization's chief-anti piracy officer, has been unearthed by reporters at the website TorrentFreak. On Thursday the website published excerpts of the document meant to be for internal use only, and the material included in the report decimates the piracy allegations that Megaupload has repeatedly dismissed.
In their analysis, the IFPI writes that the entertainment industry is threatened by two facets: computer users who share files from one machine to another; and servers that host content to be downloaded across the globe. Megaupload is included in the latter category as a cyberlocker, and has been repeatedly documented as at one time one of the world's most popular websites. Even though the files being both hosted on and downloaded to Mega's servers made up the majority of filelocker traffic, the IFPI says that Dotcom's company largely abided by the safe harbor provision of the Digital Millennium Copyright Act of 1998, which allows websites found to host illegal content to avoid prosecution if they remove illicit filesl upon demand of the copyright holder.
In one graph published by the IFPI titled "Locker Landscape – Pre Megaupload 2011 Totals," Ali writes that his group tracked 236 cyberlockers last year, with the top 10 accounting for three-quarters of infringing URLs. According to their research, Mega keeps in at number five on the list of sites hosting infringing URLs, although they unarguably had the most traffic. Together, the top four sites on their list are reported to have hosted more than three-quarter of the infringing URLs; on their graphical representation of the statistic, Megaupload's presence is but a mere sliver when compared to the competition.

"If the largest file hoster in the world does not represent a significant percentage of infringing URL's found by IFPI(according to IFPI's cake chart) then this can only lead to one conclusion: Megaupload was very effective in taking infringing links down," founder Kim Dotcom tells RT on Wednesday.
"All the other file hosters in this list were significantly smaller than Megaupload," Dotcom adds, "Yet they represent the vast majority of infringing URLs."
"This only proofs that Megaupload's take down policy and the direct delete access we provided to 180 content partners were effective," he continues in a brief online interview.
At the top of the IFPI list in front of Mega are Filesonic, WUpload and Fileserve. All three of those sites are currently accessible on the Web, albeit with limited functionality. At number four — still ahead of Mega — is 4shared.com, which still allows users to upload and distribute files. Mega's website, meanwhile, has been seized by the FBI and its main page now predominately features a federal warning that explains the take down of the site and charges delivered by the grand jury indictment.
Those charges are looking less and less likely to stick as of late, though, at least according to Dotcom and his growing list of supporters. Earlier this month he dared the FBI to fly him to America to stand trial, pleading with them over Twitter to take him to court already.
"Hey DOJ, we will go to the US. No need for extradition. We want bail, funds unfrozen for lawyers & living expenses," he wrote from the @KimDotcom Twitter account. Commenting after to the New Zealand Herald, however, Dotcom said that the FBI won't agree to his terms because they know they will lose.
"They will never agree to this and that is because they can't win this case and they know that already," he told reporters.
Weeks earlier, New Zealand's High Court ruled that the police raid on Dotcom's house was unlawful along with seizure of the hard drives that were later cloned and illegally taken from New Zealand to the US by the FBI. If he cannot be charged with a crime in New Zealand, he is unlikely to be extradited to the US.
On July 20, Dotcom released "Mr. President," a plea to Barack Obama and other heads of state to stand down on their fight against the Web.
"The war for the Internet has begun," Dotcom declares in the tune. "Hollywood is in control of politics / The Government is killing innovation / Don't let them get away with that."