Cops shoot diabetic teen after car crash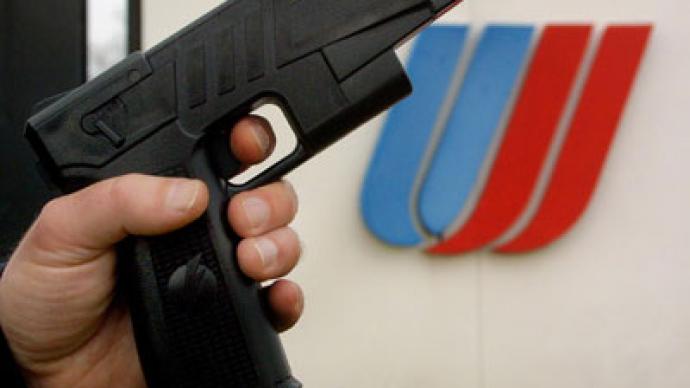 "I didn't know he was freakin' diabetic!" a Cleburne County, Alabama Sherrif's Deputy is caught saying on camera as he shakes his head. At that point, though, it was too late: he had already used his Taser on the suspect. Twice.
That suspect was Ricky Jones, a 19-year-old diabetic patient who crashed his automobile in the city of Cleburne earlier this year after his blood sugar dropped dangerously low and he went into hypoglycemic shock. Deputy Dill of the Cleburne County Sherriff's Department dropped by the scene and ordered Jones to exit his car. When the suspect was unresponsive, though, the officer assumed him to just be unwilling to cooperate.
"Do you understand that I'm talking to you? Answer my question. What's the matter with you?" the cop barked.
Video footage obtained by a local CBS affiliate shows that deputy didn't investigate much further. The officer asked for Jones' license and insurance, and when he was met with silence he issued him a warning: "Step out of the vehicle. Or I will tase you!"
Jones was fired at, twice, 23 seconds after failing to recognize the cop's commands.
"Instead of getting medical treatment, he was shot by a taser," attorney Jerry Murad tells a local CBS affiliate.
Jones survived the incident and is doing okay now, but things could have been completely different if he had not eventually been rescued by paramedics called to the scene. Murad was recruited by Jones to serve as his legal counsel and tells CBS the deputy's actions were "an error in judgment."
The defendant, Murad told U.S. District Court for the Northern District of Texas Dallas Division, "had not been properly trained by his employer, the city of Cleburne, in how to recognize these symptoms attributable to a person in a hypoglycemic state as a result of Type I diabetes."
"In fact," Murad added, the incident report files by police makes it clear that the officer was not even aware of the symptoms of hypoglycemia. "To the contrary, he was looking for a fruity odor from the plaintiff, which is not a symptom of hypoglycemia."
Jones could have likely left Johnson County counting every cent they had by demanding a hefty compensation, but his attorney tells the Deburne Times-Review that "it's not about the money." Jones ended up settling for around $5,000, his attorney says, but now cops will have to learn from the one officer's mistake. As a condition of the settlement, all Cleburne Police Department employees will have to watch a 20 minute film from the American Diabetes Association called "Treating Diabetes Emergencies: What Police Officers Need to Know."
"What excites me is the training requirement part, which I think can do some good," Murad tells the paper. "The objection was not to go after anyone, but officers really need to know about diabetes and [CPD] could be a tremendous asset if they realize they made a mistake and learned from the experience. There's been too many Taser incidents throughout the country."