Cop boots pregnant woman in stomach; Dept. says it's fine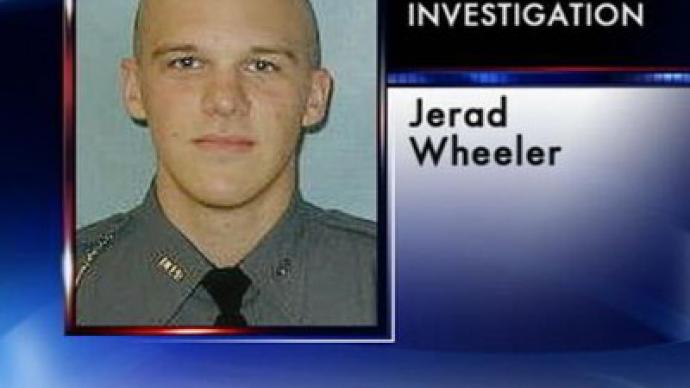 A rogue cop from the DeKalb County Police Department in the state of Georgia is in the news for the third time in only seven months. Officer Jerad Wheeler is now being investigated after kicking a pregnant woman in the stomach.
No charges have been filed against Officer Wheeler for kicking Raven Dozier in the abdomen after the cop responded to a call involving a child custody issue, reports local television station WSBTV News. Dozier says she was trying to calm her brother down during police questioning after a police officer used a Taser gun on her sibling. After her brother was shot, Ms. Dozier says she started crying and questioning the officer over his actions. That's when Wheeler is reported to have gotten violent."I think he really just didn't want me asking him any questions, questioning him, and when I did question him is when he kicked me," Dozier tells the station.Ms. Dozier was just shy of nine months pregnant during the incident. She underwent an emergency c-section procedure two weeks after and gave birth to a healthy baby boy, Levii. Now more than four months after being assaulted by the officer, Dozier is still demanding justice.According to the Dekalb County Police Department, Officer Wheeler was in the right.Despite being only days away from her due date, Officer Wheeler says he could not tell that Ms. Dozier was pregnant during the incident. Regardless, he explains in the official police report that accompanied the incident that he used "a front push kick to the abdomen, as he was taught to do at the academy" because she "approached him aggressively."A police report was filed because officers charged Ms. Dozier for obstruction during the altercation. Prosecutors have since dropped the charge.A public profile exists on Facebook for a Jerad Wheeler from Atlanta, Georgia that lists his employer as Dekalb County Police Department. Among Wheeler's listed activities are grappling, training, weight lifting and Brazilian jiu-jitsu. According to the Facebook page for Jerad Wheeler, one of his favorite quotes is "Weapons give me a semi."Four months after the incident, WSBTV confirms that Officer Wheeler is under a criminal probe for the incident. When Ms. Dozier initially filed a complaint, however, the police department dismissed her allegations, refused an investigation and OK'd the officer's actions. At least four supervisors and an internal affairs detective subsequently approved of Wheeler's actions and agreed that the attack was within the department's use of force policy."What kind of a human being kicks a pregnant woman? I mean, forget whether or not it is a police officer that is supposedly protecting people," Dozier's attorney, Mark Bullma, tells WSBTV News."He was not, he had no reason to do that, and for a higher authority to say that he is OK, his boss is wrong too," Dozier adds."I believe that something should be done. Men go to jail every day for hitting women and it's not OK just because he is a police officer."A call placed by RT America with the Dekalb County Police Department inquiring if Officer Wheeler is currently receiving pay was not returned. WSBTV reports that a police representative declined to comment with them as well regarding how the department was handling the officer.What has been revealed, however, is more shocking news about the officer's sordid past, including events from only the last few months. In September, a 53-year old woman said the officer twisted her arm and slammed her into a cop car for seemingly no reason. This January, Wheeler responded to a 911 call by arriving at the wrong address, then shooting a leashed dog that was inside the incorrect home's garage. He was exonerated of both crimes."It's showing that there is an ongoing pattern and practice of attempting to clear officers of clearly illegal, unconstitutional, and improper conduct," Bullman adds.
You can share this story on social media: