Californian arsonist faces death penalty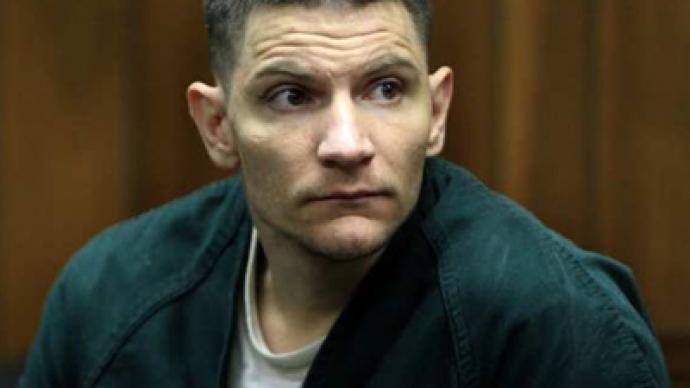 The man who intentionally started a devastating California forest fire that killed five men may be receiving the death penalty for sparking the catastrophic 2003 blaze.
The Southern California fire, known as the "Old Blaze," scorched 91,000 acres of land, destroyed 1,000 homes and killed five men who died of heart attacks while trying to evacuate their homes or after seeing the remains of their houses. For nine days, the fire destroyed all in its path.Rickie Lee Fowler, 31, was convicted of arson and five counts of first-degree murder. The San Bernardino jury in August found that Fowler had intentionally started the deadly fire by tossing a lighted rod flare into the forest on a windy October day when Southern California was already overwhelmed with wildfires.The jury on Friday recommended that the defendant be put to death for his actions after Deputy District Attorney Robert Bullock called Fowler an "evil" and sadistic felon that should be on death row. Bullock also emphasized that Fowler in the past raped two girlfriends and sodomized a jail cellmate, turning him into a "sex slave." The district attorney described Fowler as someone who loved to inflict "misery and mayhem" on others. The final decision on sentencing will be made at an upcoming hearing."You're not going to find a better case than this for the death penalty," Bullock told the jury last week. But others in the legal field have questioned whether the five heart attack victims could actually be considered "murdered."Laurie Levenson, a Loyola Law School professor, told USA Today that the prosecution of Fowler resembled the prosecution of bank robbers who have been tried for murder after heart attacks killed frightened tellers. But in the case of wildfires, victims hardly ever die this way, she said."Usually in arson, people die of smoke inhalation, or being – God forbid – burned to death. This is not the ordinary way people die in these situations," she said.Defense Attorney Michael Belter urged the jury to sentence Fowler to life imprisonment, rather than give him the death penalty. Belter described Fowler's poor upbringing by two meth-addicted parents, asking the jury to have mercy. He also argued that the defendant set the blaze out of anger against his father, who had kicked him out of the house at the top of the canyon."When you're 8 years old, you should not be living in filth, or given a line of methamphetamine by your dad," he said.But whatever the jury decides upon, at the least "this man is still going to die in prison," Levenson said.Fowler became a suspect in the wildlife after witnesses saw a man throw burning objects into dry bush while sitting in the passenger seat of a white van. It took investigators six years to gather enough evidence to file charges. When Fowler was finally charged, he was already serving time in prison for burglary and had already been convicted of sodomizing an inmate.Fowler had received a sentence of three terms of 25 years to life prior to being convicted for arson and murder. The only way for his sentence to become harsher is if the court were to put him on death row for the fire.
You can share this story on social media: