California prisoner dies during hunger strike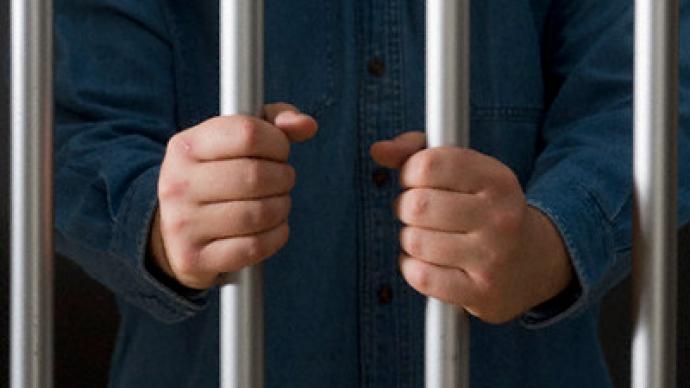 A 27-year-old inmate passed away while participating in a hunger strike in California this month and the details surrounding his death and the jail's handling of it are just now surfacing.
Christian Alexander Gomez barely lasted one week while engaged in a fasting protest at the Corcoran State Prison in California. He's believed to be one of 32 inmates that participated in the hunger strike, which was the most recent form of protest waged by prisoners. After thousands of inmates have participated in hunger strike dating back to last summer, Gomez is the first man believed to have died during his protest.Gomez's sister tells Democracy Now that her brother braved inhumane conditions at Corcoran, and even feels that he was wrongly imprisoned there. Up until his death, however, the inmate was confident that eventual changes in the system would soon make him free."He was a genuine person that had not lost hope in the system. He knew that he would eventually get out," says his sister, Y.L.Despite his persistence, however, things did not get better for Gomez. "He told me things were a lot different at this prison," sister.. She adds that Gomez had been incarcerated at a different facility for four years, High Desert State Prison, and has yearned for a return after being transferred to Corcoran "He didn't receive the same medical attention he received over at High Desert," she says.Throughout the state, inmates have repeatedly demonstrated against unjust conditions and treatment in facilities across the West Coast, but little has been done to remediate the issues so far. Last July, more than 6,000 inmates across California participated in a hunger strike that spanned more than a dozen different facilities across the state. In September, inmates launched a second strike."Despite claims to the contrary, the California Department of Corrections and Rehabilitation (CDCR) has yet to fully address what the prisoners feel are the most substantive changes outlined in their demands," the advocacy group Prisoner Hunger Strike Solidarity addressed during last year's series of strikes.Protesters have said that the strikes were being waged to draw attention to torturous conditions at state-run prisons. Even with Gomez's death, however, little changes have been accomplished nearly a year after protests first started. After her brother's death, Y.L adds that the prison continued to disregard Gomez. She says that the family was informed of her brother's death on February 2, but the facility has failed to address even that in a way that could be considered humane. "They told her that she would receive a letter in the mail explaining everything and where we could claim the body," she says, adding that officials would not provide a number for the family to find more information. "I was so upset that things were being handled this way; for God sake, we were talking about a human being, not an animal."Living inmates say that that is how they've been treated, though. "They're tired of being tortured," Dorsey Nunn, executive director of Legal Services for Prisoners with Children, tells ABC. Across the state at the Pelican Bay State Prison's solitary confinement unit, inmates have been subjected to conditions that psychologists say left them "essentially catatonic."Even in the moments before Gomez passed away, authorities are believed to have ignored him. Other inmates in touch with his sister say that they screamed and pounded their fists on the doors of their cells to get the guards' attention as Gomez become gravely ill during his fast, but officials failed to respond. Gomez was serving time for first degree murder and attempted murder, although his sister insists he was innocent. "Unfortunately, we couldn't afford a good attorney and he got screwed," she tells Democracy Now. Late this week, a spokesman for the California Department of Corrections and Rehabilitation said the results of an autopsy on Gomez had not yet been complete.
You can share this story on social media: