Inmates respond to torture with hunger strike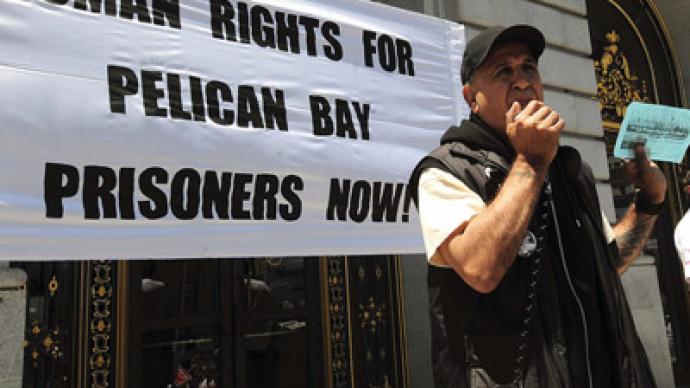 California convicts are protesting what they call torturous conditions at many of the state's prisons and have resorted to a massive hunger strike in opposition until things are changed.
The toll of prisoners participating in a hunger strike pinnacled at around 6,600 over the weekend as inmates in 13 California institutes refused state-issued food. While the number was down to 2,100 inmates by Wednesday, many are still demonstrating against a cruel and unjust environment.At the Pelican Bay Security Housing Unit — better known as "The SHU" – inmates spend over 22 hours a day in 6-by-10-foot cells. The only hour and a half of relief they receive is when they are confined to a small concrete yard with 30-foot-high walls.Inmates in the SHU and other institutes across the Golden State are now refusing to eat until California's Department of Corrections and Rehabilitation ban their policy of "indefinite confinement" at the SHU. Inmates also say that officials force prisoners to falsely accuse others of crimes if they ever want out of the isolation units.Of the 3,500 prisoners confined to Pelican Bay, over 1,000 are in near-total isolation in the SHU. Inmates and psychologists alike say that the conditions that they are faced with are torturous and need to be reevaluated.Psychologist Craig Haney gave up some of his research on the conditions and the consequences on the prisoners for a 2009 New Yorker article. Harvard professor Atul Gawande writes of Haney's research that "First, after months or years of complete isolation, many prisoners 'begin to lose the ability to initiate behavior of any kind — to organize their own lives around activity and purpose. Chronic apathy, lethargy, depression, and despair often result.""In extreme cases, prisoners may literally stop behaving,' becoming essentially catatonic," he writes"Second," Gawande, "almost 90 percent of these prisoners had difficulties with 'irrational anger,' compared with just three percent of the general population." Gawande says this is a result of the extreme restriction, the totality of control and the "extended absence of any opportunity for happiness or joy.""… Everyone's identity is socially created: it's through your relationships that you understand yourself as a mother or a father, a teacher or an accountant, a hero or a villain. But, after years of isolation, many prisoners change in another way that Haney observed. They begin to see themselves primarily as combatants in the world, people whose identity is rooted in thwarting prison control."Speaking to Southern California Public Radio, Molly Porzig of Critical Resistance, one of the nonprofit groups supporting the prisoner hunger strike, says that prisoners are joining the protest for varying lengths of time, nothing that "Some people can only fast for a few days but there is a large number of prisoners in the SHU in Pelican Bay who are doing this indefinitely."After a prisoner goes without nine consecutive meals, the state is required to have the prisoner monitored by health officials. If the condition of an inmate wanes enough, he or she can be transferred to an outside hospital, but even there a prisoner can still refuse treatment. SCPR reports that some of the Pelican Bay prisoners say they have no problem with dying if it means the cruel and inhumane conditions that are imposed on them come to a close.On Wednesday the Los Angeles Times reported that inmate representatives will be speaking with prison officials as medical staff monitors the health of those keeping the strike going.
You can share this story on social media: