California prisons to stay tortuously overcrowded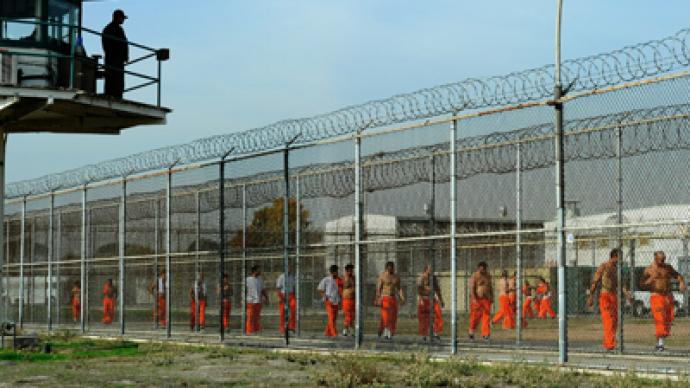 Prison officials in California have a problem with overcrowded institutions, but it isn't what you might think: unable to keep their facilities under 137.5 percent capacity, corrections officers in Cali are asking for an increase in that cap.
California authorities have had more than a year now to try and find a solution to fix the state's booming prison population, but as of this week say that they don't expect to end an issue with overcrowding until even well into 2013. In May of 2011, the US Supreme Court said that overcrowding was such an issue in California that the conditions prisoners were being subjected to there were on par with "cruel and unusual punishment." At the time, the Supreme Court said California had two years to come to terms with the problem and ensure that all institutions on the Golden Coast were kept under 137.5 percent capacity. State officials now say that such a goal is unlikely — even with another year until their deadline — but a federal court says they want to see what is being done to address the problem.In a last-ditch attempt to end its overcrowding problem, a panel of three federal judges say California has until this Friday to figure out which of its prisoners are "unlikely to re-offend or who might otherwise be candidates for early release," the Los Angeles Times reports. The federal judges want California leaders to outline a plan this week to put less harmful prisoners back on the streets as a way of opening up its jail cells. Prison officials say that they plan on offering up a proposal of their own that keeps them close-to-quota without releasing anyone, though: according to the Times, state officials intend on asking the high court for a prison cap of 145 percent, not the current 137.5, because they believe that they can keep their facilities running efficiently and still to the brim with inmates — even nearly 50 percent more than what their buildings are designed to hold."Reducing the inmate population is not the goal of the court," corrections agency spokesman Bill Sessa tells the paper. "It is a means to an end, which is providing better healthcare that was compromised by overcrowding." Mr. Sessa adds to the Times that the state's healthcare woes will be remediated, at least a little, when a 1,700-bed facilities is opened in Stockton next year, a city that recently was forced to file for bankruptcy protection. But even with that new institution opening up in 2013, a population cap of 145 percent means prison officials want to cram around 118,000 inmates into spaces intended for 81,500.In the end, that state's proposal would still mean that they would be stuck finding living quarter for 6,000 more inmates than the Supreme Court has asked them to. And, given the accommodations that exist, there will be roughly 36,000 extra prisoners forced to find a space to call their home behind bars.The federal judges that gave the state an ultimatum to reach the 137.5 percent population cap by next year says California must "take all steps necessary" to meet that goal by June 2013. Inmates at several California prisons have waged no fewer than two widespread hunger strikes in the last year to protest the conditions at the state facilities. Christian Alexander Gomez, 27, passed away in February while fasting in protest at Corcoran State Prison.