DARPA building drone submarines to patrol the sea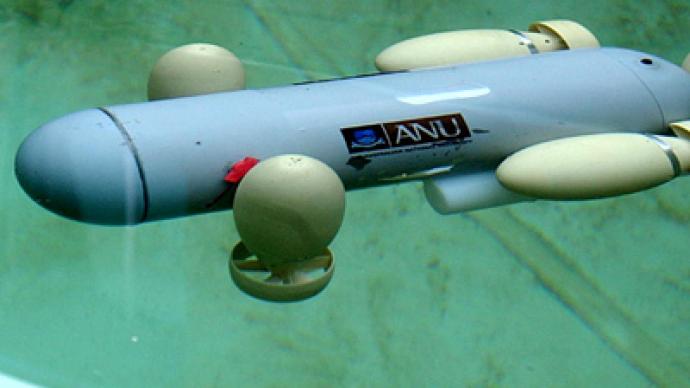 Surveillance drones in US airspace is soon to be inevitable, but what about unmanned vehicles patrolling the seas? The Pentagon is working hard at perfecting a stealth underwater drone for maritime monitoring.
Science Applications International Corporation of McLean, Virginia was recently awarded a contract from the Pentagon's Defense Advanced Research Projects Agency, or DARPA, valued at over $58 million. With that funding, researchers have already begun working on an underwater vessel that will take the surveillance abilities that make aerial drones such a hot commodity and use it to send an unmanned submarine to sweep the sea for potential hazards.According to DARPA, enemy submarines are being built right now with competing technology, allowing America's foes to perhaps find a way to sneak unmanned vessels of their own around US bases across the globe. That's why the Pentagon has contracted a team to work on an Anti-Submarine Warfare (ASW) Continuous Trail Unmanned Vessel, or ACTUV, which they say will be able to address a serious emerging threat."The growing number of adversaries able to build and operate quiet diesel electric submarines is a national security threat that affects US and friendly naval operations around the world," writes DARPA. Still in the early days of testing, the Science Applications International Corporation is now in the midst of stages two through four of the process, which involve design, construction and demonstration of a submarine that can spend months underwater without requiring a single human operator on board. If their prototype proves successful, software will need to be scripted, a finalized ship will be built, and the drone sub will begin supporting at-sea government testing. DARPA predicts the ships will be ready to go underwater for their first test runs in mid-2015.In addition to scoping out any underwater adversaries interesting in attacking the United States or its bases, these drone subs could also be deployed to search for any other vessels that could compromise America's interest. Earlier this year RT reported on the growing number of stealth subs used to move narcotics from Central America into the US, and just this month it was reported that a nuclear-powered Russian attack submarine sailed to within 200 miles of the United States before it was first spotted. Sending subs into the sea to search for these types of hazards is already an option, but deploying unmanned vehicles in dangerous situations might soon be the norm.
You can share this story on social media: