Russian nuclear sub given shelter near Florida during Sandy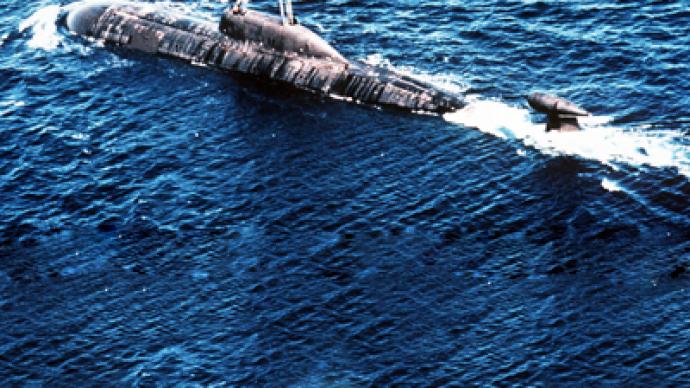 Defense officials say that a nuclear-powered Russian attack submarine sailed to within 200 miles of the United States last week and was granted safe harbor as Superstorm Sandy struck the East Coast.
According to a report published this week by defense commentator Bill Gertz, a Russian Sierra-2 class submarine was spotted recently not too far away from Kings Bay, Georgia, where the United States stations its own ballistic and cruise missiles, including six underwater-capable vessels also powered by nuclear energy.
Gertz, the editor of The Washington Free Beach, says those US subs docked off of the Georgia coast are known to be a target of potential Russian attacks in case of nuclear war. Less than three months ago, Gertz wrote for the Beacon that a Russian Akula-class nuclear sub, loaded with cruise missiles, has been patrolling nearby in the Gulf of Mexico, but Chief of Naval Operations Adm. Jonathan W. Greenert dismissed those reports as being inaccurate "based on all of the source information available to us."
In his latest report, Gertz writes that several defense officials confirmed the sightings, but did on condition of anonymity "because of the sensitive nature of anti-submarine warfare efforts."
One official, he reports, says that "a Russian electronic intelligence-gathering vessel was granted safe harbor" not far away in the commercial port of Jacksonville, Florida, which would still put it within listening range of any operations keeping from Kings Bay.
"While I can't talk about how we detected it, I can tell you that things worked the way they were supposed to," the official says, adding that the Russian submarine "poses no threat whatsoever."
Additionally, a US aircraft carrier strike group was reportedly conducted exercises in the Atlantic when the Russian vehicle was observed, but it did not at any time threaten American operations.
Gertz says the Akula-sub likely served as an "Auxiliary-General Intelligence," or AGI vehicle, and cites another defense official as saying the entire things seems "reminiscent of Cold War activities" of the Soviet navy conducting spy operations on American ballistic missile submarines.
Less than a year ago, Russian Navy Commander Adm. Vladimir Vysotsky was quoted in the Geostrategy Direct newsletter as saying, "On June 1 or a bit later we will resume constant patrolling of the world's oceans by strategic nuclear submarines."