Seattle woman weds corporation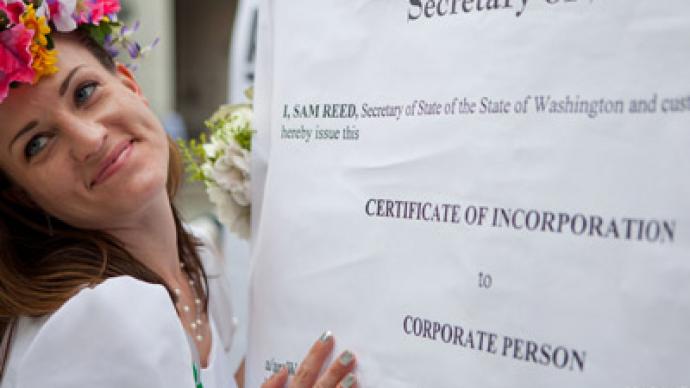 Single life got you down? But let me guess — that special someone seems impossible to find. An activist in Seattle found a surefire solution to her bachelorette blues, while at the same time sticking it to the Supreme Court.
Seattle resident Angela Vogel was given state permission to proceed with a planned wedding after officials in King County, Washington this week signed off on a marriage license between the beautiful bride-to-be and one Mr. Corporate Person: a one-and-a-half-month-old corporation established earlier this year. Jeff Reifman, a Seattle-based technologist and writer, is listed on Corporate Person's official papers as its registered agent.King County Executive Dow Constantine authorized a marriage license between Vogel and Corporate Person this week, and the bride and groom just couldn't be happier."I'm incredibly excited," Vogel tells reporters from Seattle's The Stranger. "I'm drinking."Mr. Person — well, Mr. Reifman — adds to the Washington Bus blog that it wasn't exactly the easiest thing to have his corporation legally permitted to wed a human, but if the US justice system can allow big businesses the same rights as people under the Citizens United ruling, frankly, it only makes sense. And if you think otherwise, take it up with Mitt Romney."I was really thrilled and the ceremony was wonderful," Reifman tells Washington Bus. "It was a little difficult to get them to do it, but they took my money and they provided a marriage license. We talked to them about the Supreme Court offering corporate personhood.""The Supreme Court has said that corporations are persons with equal protections under the Fourteenth Amendment, which means they have all the same rights as you or me (unless you happen to be gay or lesbian).So a corporation has just as much right to marry a woman that I have to marry a woman," Reifman adds.
The bride and corporation exchanged vows in a ceremony proceeded over by Rev. Rich Lang, who is both a pastor and columnist. "Corporate Person and Angela, may your children become sacrifices in war for greater market gain, may your wealth be without end, may your desire for more always be insatiable," Rev. Lang wished the couple. "May you begin every day in expectation of profit, and end every night resting secure in each other's bank accounts. May your continuous lies never be revealed, may your lawlessness never be held accountable, may your theft be forgiven, and may you own this nation lock, stock and barrel until freedom is no more."Reifman is behind an initiative in Seattle that, if passed, would strike down the corporate personhood guarantees created under last year's Supreme Court ruling between Citizens United and Federal Election Commission. When America's top justices signed off on the decision, corporations were guaranteed some of the same constitutional rights assigned to the American public. "If they were to reject the license, they would be facing a lawsuit from Corporate Person, and the city shouldn't waste money defending yet another lawsuit," Reifman adds.Only moments after Reiman made that statement, however, the City of Seattle came down hard and now might actually have some legal hoops to hop through. In a statement made to the Stranger after the certificate was signed, Cameron Satterfield of the Department of Executive Services revealed that the city is already attacking the happy couple."King County Records and Licensing Division reviewed today's events and determined that the clerk accepted the marriage application in error. After checking with the Washington State Department of Health, and pursuant to RCW 26.04.130, we have voided the license and will refund the $64 application fee," Satterfield explains.
You can share this story on social media: