Cop hit-and-run on Miami Beach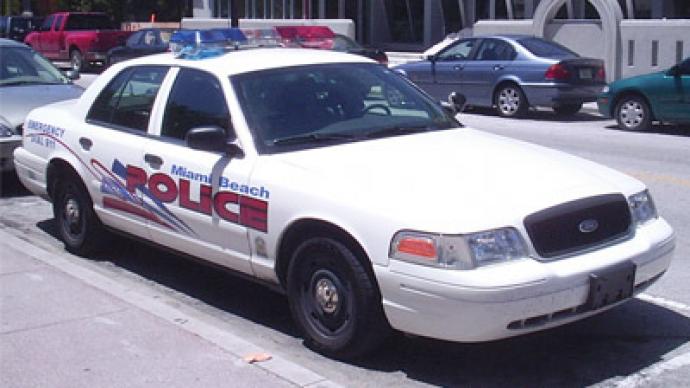 Today's installment of "cop does something dumb and horrible" comes courtesy of the sunny beaches of beautiful Miami, Florida.
It was there over the weekend that an on-duty police officer took pre-dawn cruise on an ATV along the city's shores, without headlights — possibly drunk — and ran over two beachgoers at five in the morning.Five year veteran officer Derick Kuilan is now on administrative leave while his fellow patrolmen investigate the incident. Allegations surfaced since the ordeal that Kuilan was drinking earlier that morning at a Miami bar with another officer on the clock. Additionally, Kuilan was riding on his ATV with a 27-year-old woman that cops think he might have picked up at the watering hole. Luis Almonte suffered several broken bones as a result of the incident and says that the officer's ATV passenger had been celebrating a bachelorette party. Miami Beach Mayor Matti Bower confirms that Kuilan was indeed giving someone a ride, which is in direct violation of departmental policy.Says Bower, "apparently he was having some drinks, but I don't know what kind of drink; it could be water, Coke."In a statement from City Manager Jorge Gonzalez , however, he seemed to be a little less understanding. "This is a complete abandonment of common sense," he says, adding that he finds it "hard to find legitimate reasons" why the on-duty officer was at a bar and that "there's no reason why anybody should be driving anybody on an ATV anywhere."King 5 News out of Seattle says that Kuilan pleaded with witnesses not to report him before he took off from the scene, leaving three people injured. Almonte and one other remain hospitalized after the ordeal. His friend, Kitzie Nicantor is in stable condition. Almonte will survive, however he is now bed-ridden and has a metal rod in his femur after the accident left his thigh bone crushed.Jonnathan Adames was there during the incident, and says to the Miami Herald that Nicantor looked dead, covered in blood, when the officer took off on foot. "I'm expecting him to protect us, and he disappears on us," Adames says. "It's not right."He adds that this incident doesn't call for only police discipline, saying, "We're not talking about losing a job . . . We're talking about a hit and run."Almonte was equally unimpressed by the cop's willingness to disappear. "If you're going to have a job where you're supposed to take care of the people, you should be more responsible," he says to WSVN.Almonte was in town celebrating his birthday, which he ended up spending in a hospital bed at Mt. Sinai Medical Center. "Not the best [birthday] but, you know, I'm alive, so I'm happy about that," he says.Despite it being confirmed that Kuilan was riding a passenger on his all-terrain vehicle, a certain violation of departmental policy, he is off on pay while the investigation carries on. Toxicology results are expected sometime Tuesday so it can be determined if the officer was indeed drunk.
You can share this story on social media: