High Demand: Colorado pot shops can't keep up with new orders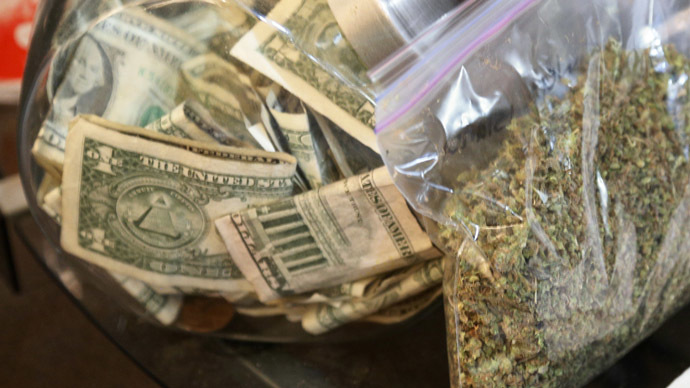 It's only been a few days since adults in Colorado have been legally able to purchase marijuana for recreational use, but the demand at dispensaries across the state has some saying a pot shortage is all too imminent.
Legal weed only became a reality in Colorado starting on January 1, but an unexpected turnout at the state-licensed shops in the last week has forced dispensary owners to rethink their supply plans.
In Denver, 3D Cannabis Center owner Toni Fox told the Colorado Springs Gazette last Thursday that she was on track to need new inventory before the weekend was over.
"We are going to run out," she told the paper. "If there is a mad rush, we'll be out by Monday."
Fox told the Huffington Post last month that she had a feeling even before "opening day" that demand could cause dispensaries to quickly run out. Bud business across Colorado has already managed to exceed most expectations, however, and Fox and her fellow shop owners believe they'll be seeing a shortage on the horizon.
"Quite honestly, I do believe there is going to be a shortage of marijuana in the short term in Colorado," Andy Williams of Denver's Medicine Man shop added last month to the Huffington Post. "Everyone is expanding that can, but it takes some time for that to come online. It will be a little while before the supply and demand level out. I think after the first month, people may start seeing stores with less of a selection and maybe a couple of them will run out."
Indeed, the Associated Press was reporting last week that some Colorado shops had been forced to close earlier than expected on the first day of sales as more than $1 million in revenue was generated across the entire state. Sales were so significant at Fox's 3D Cannabis Center through the weekend that the store started limiting how much it was willing to sell to each customer by enforcing a maximum transaction of 4 grams.
On Monday morning, Fox wrote on her personal Facebook page that she was closing the shop until Wednesday in order to regroup.
"Cannabis Center will be closed today and tomorrow for restocking and a well needed rest for the staff," Fox wrote her Facebook followers.
According to The Gazette, the national Cannabis Industry expects Colorado to generate $400 million in sales by the end of 2014. Shop owners in Denver told the paper that at least 50 percent of their sales on opening day went to out-of-state buyers, but Colorado is reaping around 25 percent off each transaction due to new taxes.
That isn't to say that dispensary owners and the state government are the only ones benefiting from the new law, however. As RT reported over the weekend, shares for several companies that sell marijuana growing machinery to area pot shops saw their prices soar during the first week of 2014.
You can share this story on social media: