Stock in marijuana companies skyrocket after Colorado sells $1 mil on first day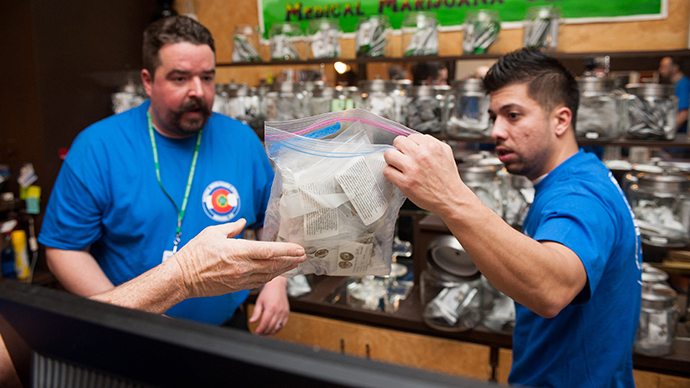 The long lines stretching around Colorado marijuana shops have apparently not gone unnoticed by investors, with the price of shares for cannabis-related companies skyrocketing since the drug became legal throughout the state on January 1.
One of the claims most often cited by marijuana legalization advocates is how profitable the policy would be both for state governments and the local economy. While a sample size of just a few days is small, the initial success indicates the claims may prove to be true.
A study cited by AFP estimated that the Colorado state government could reap an annual $10 billion by 2018, but private companies already have reason to celebrate. MediaSwipe Inc, which has built a business on selling transaction processing systems to the medical industry and now works with cannabis stores, has seen its shares jump 88 percent over the past month of trading and 69.4 percent on Thursday alone.
Sharing the sudden success is GreenGro Technologies, a growing equipment dealer, with share prices rising 52.3 percent to 6.7 cents. Medical Marijuana Inc, a California grower of medical marijuana, also saw an increase, up 22 percent to 18.9 cents.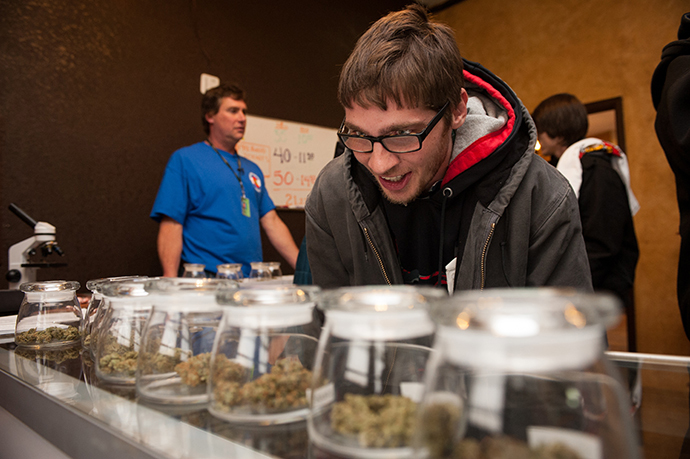 Most of the companies have yet to make an impact, perhaps because legalization is so new or because it is still limited to Colorado. But researchers with ArcView Market, the same study cited by AFP, said they expect the national legal marijuana market to grow in size from $1.44 billion to $2.34 billion this year. That forecast will likely rise again soon as Washington state is scheduled to legalize cannabis later this year and a number of other states are considering similar legislation.
"Gains will come in the form of increased demand in existing state markets, as well as from new state markets coming online within the five-year horizon," the ArcView study noted.
Most of the cannabis stores are located in an around the Denver area, where shop owners estimated they collectively sold $1 million within the first 24 hours. Retail buyers are charged a 10 percent tax for every sale and a 15 percent excise tax which varies based on the average market rate. The first $40 million in taxes will be put toward the school system with any tax dollars after that dedicated to regulations.
Yet, because marijuana is still illegal under federal law, business owners are prohibited from putting their profits in the bank – making it difficult for many to know exactly how much they've earned.
"We all know this needs to be fixed because there is not one good reason why these businesses are not allowed to have banking accounts – only bad reasons: security concerns and accountability concerns," Mike Elliott, executive director of the Medical Marijuana Industry Group trade association, told Denver's KDVR-TV.
State regulators have said they have been in contact with federal officials and expect the discrepancy to be resolved soon, yet none of the remaining hurdles have been enough to dampen customers' spirits.
"This feels like freedom at last," said Amy Reynolds, who owns two medical marijuana shops in Colorado Springs. "It's a plant, it's harmless, and now anyone over 21 can buy it if they want to. Beautiful."
You can share this story on social media: