Colorado readying for marijuana tourism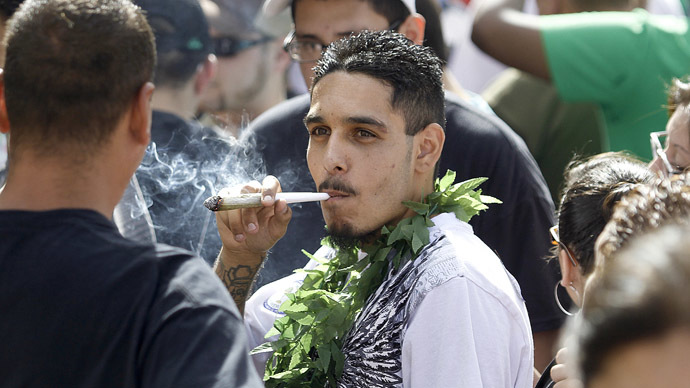 Budding entrepreneurs in Colorado are attempting to cash in on the state's new marijuana laws by offering weed-themed tours to curious cannabis enthusiasts.
Adults over the age of 21 will be able to purchase recreational pot starting January 1 in the Centennial State, and residents there say legal weed could help launch homegrown tourism companies that aim to attract smokers.
City officials in Denver, Colorado began handing out licenses to the owners of no fewer than 42 medical marijuana shops and grow facilities this week, the Associated Press reported, but the new-fangled weed industry won't revolve around just buying and selling. A handful of companies are already offering tours that take advantage of a first-in-the-US law that lets adults legally smoke in private.
Some of those groups — like Colorado Highlife, for instance — have been offering "affordable and discreet excursions" since April. With recreational weed about to be fully legal in most jurisdictions there, though, they're hoping to bring in new clients interested in chauffeured and catered custom tours.
Highlife's Timothy Vee recently told the Coloradoan that his company is getting requests from "a lot of old stoners and a lot of wealthy people" who want to take advantage of the new law, but "safely with a concierge."
"Now the kids are gone, they're 60 years old and they want to get high," he told the paper.
To help with such, Vee's company is offering packages intended to help tourists enjoy marijuana while under the supervision of someone relatively more familiar with recently signed laws that contrast heavily with federal legislation. Medical marijuana was approved by voters in Colorado back in 2000, but only last year did they agree to amend the state constitution to allow for regulations and rules for personal use, cultivation and selling weed. The first retail shops are expected to open on January 1, and Vee and others are prepared for a surge in business from tourists and other customers who want to carefully exercise their new-fangled right.
The US Department of Justice doesn't feel similarly about the drug, however, and marijuana is still illegal as far as federal officials are concerned.
"We're delving into truly uncharted territory here," Summit Colorado County Sheriff John Minor told the Coloradoan. "We do have this misperception in Summit County where people have smoked in public, been charged, and were under the perception that's a free-for-all."
When the paper's Trevor Hughes wrote about Highlife this week, he reported that tourists can write a check to Vee for $1,200 that will in turn get them a unique adventure that legally isn't offered elsewhere in the US. For that price he will send a limo to a client's hotel and then treat customers to a chauffeured ride to the region's highly-hailed ski resorts, complete with snacks, soda and complimentary pot.
Highlife is far from being the only company to offer custom weed-themed packages, though. Colorado Green Tours can arrange for customers to experience a similar adventure onboard a 56-passenger bus, and even offers help with booking sleep accommodations. The AP reported on Thursday this week that one company advertises a week-long excursion that for $10,000 will take a group of customers to the state's finest glass-blowing shops and ski resorts alike. And with state regulators reaping the benefits of legal weed, a Colorado State University study expects the industry to generate $606 million in taxable sales in 2014.
But while retailers will be able to start selling marijuana to adults in only a matter of days, they technically won't be able to start cultivating their own crops until then as well. Some now say that a shortage could quickly emerge as demand exceeds supply, including dispensary co-owner Kayvan Khalatbari.
"People who come here on January 1 are going to be sorely disappointed by the lack of marijuana," Khalatbari of Denver Relief told Forbes. "I think there's going to be a huge drought."
Nevertheless, most seem to agree that the new year will bring in some serious cash to the local economy."What's happened is that we have industrialized marijuana," Andy Williams of Denver's Medicine Man told the Telegraph. "This is a business, with technology and investment. When people see my facility they realize it's not scary. It gives people jobs, it's revenue for the city and state."
"We think it could rival skiing," Marijuana Business Daily editor Chris Walsh told Colorado's Vail Daily of what could be the state's new biggest industry. "Not next year or the year after, but down the road."
While dozens of licenses were awarded this week to Denver businessmen, RT reported previously that Colorado's Marijuana Enforcement Division recently approved 348 licenses across the state: 136 to pot shops, 31 to marijuana-infused products companies, 178 to growing facilities and three to marijuana-testing laboratories.
You can share this story on social media: