Colorado store makes history as first to offer recreational marijuana in the US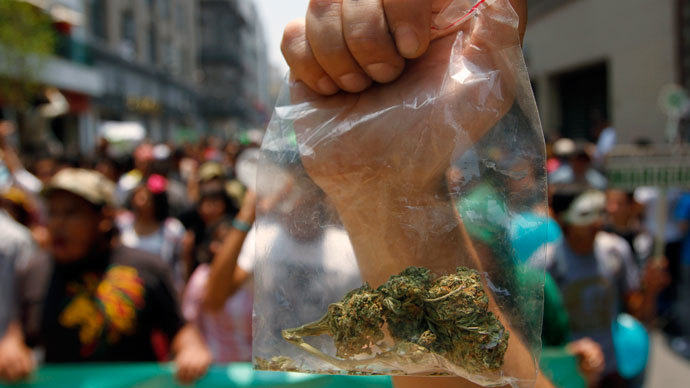 A small store in Central City, Colorado has made history by becoming the first establishment in the US to be granted a license to sell recreational marijuana.
Annie's Central City Dispensary, located in a city founded during the Pike's Peak Gold Rush, posted on social media earlier this week that its license application had been approved. It will be among the first shops in Colorado to begin selling marijuana on January 1, 2014, more than a year after Colorado residents voted to legalize use of the drug for persons 21 and over. 
The state's Marijuana Enforcement Division has accepted 136 applications from recreational marijuana stores so far. Another 400 are eligible to apply, though the state has said only establishments in "good standing" will be accepted. 
"Cannabis is one of the fastest-growing industries," Steve Berg, former managing director of Wells Fargo Bank and editor of a report titled the state of Legal Marijuana Markets, told the Huffington Post. "Domestically, we weren't able to find any market that is growing as quickly."
All of which makes it difficult for many people to understand why the Drug Enforcement Agency continues to launch raids on businesses that have been accepted by the community. Like Colorado, voters in Washington State have also voted to legalize recreational marijuana. 
Yet the drug remains illegal on the national level and, because federal law trumps state law, federal police agencies like the DEA are technically permitted to harass and intimidate retail and medical pot dispensaries. US President Obama and Attorney General Eric Holder have both said repeatedly that federal police agencies would respect state law, a promise that has been continuously broken since 2009. 
At the same time, authorities in Colorado have conducted the largest raid on dispensaries since medical marijuana became legal Thursday, with officers executing search and seizure warrants at more than 12 stores in the Denver area alone. Masked agents broke windows and confiscated products from medical marijuana dispensaries that customers rely on to cope with cancer and other serious ailments. 
"Although we cannot at this time discuss the substance of this pending investigation, the operation under way today comports with the Department's recent guidance regarding marijuana enforcement matters," Jeff Dorschner, spokesman for the US Department of Justice, told the Denver Post. 
He added that the DEA, Internal Revenue Service criminal investigations unit, Denver Police Department, and local law enforcement agencies were involved in the operation. Dorshner said that while investigators could not comment on the matter, there were indications the targeted dispensaries violated an August Justice Department memo outlining the activities would work to prevent. Those conditions include: 
• the distribution of marijuana to minors;
• revenue from the sale of marijuana from going to criminal enterprises, gangs and cartels;
• the diversion of marijuana from states where it is legal under state law in some form to other states;
• state-authorized marijuana activity from being used as a cover or pretext for the trafficking of other illegal drugs or other illegal activity;
• violence and the use of firearms in the cultivation and distribution of marijuana
• drugged driving and the exacerbation of other adverse public health consequences associated with marijuana use;
• growing of marijuana on public lands and the attendant public safety and environmental dangers posed by marijuana production on public lands;
• preventing marijuana possession or use on federal property.
Washington is scheduled to begin selling recreational marijuana by mid-2014. Until then, with a number of states considering similar legislation, all eyes will remain on what has become the Colorado experiment. 
"Entrepreneurs and private investors are flocking to cannabis markets," Berg, the former Wells Fargo director, said. "Those who really understand market dynamics will reap large rewards."
You can share this story on social media: