Legal weed comes to Colorado – but not its airports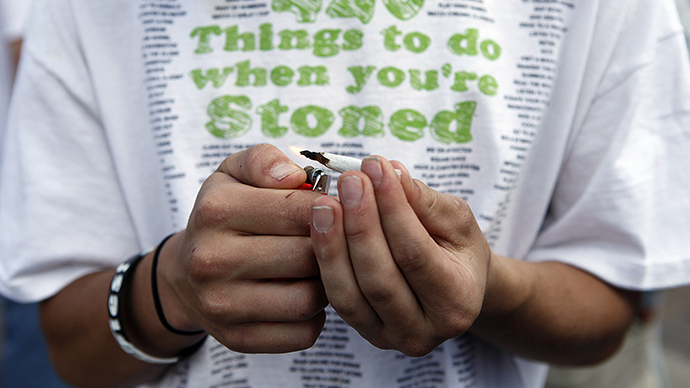 Colorado may be all ready to legalize pot smoking starting January 1, but the state's not exactly set to let high flying travelers carry marijuana through its airports.
According to a local Fox affiliate, the Denver International Airport is issuing warnings that officials will not only confiscate marijuana when found on passengers, but also that those caught could face a fine of $999.
Elsewhere, recreational marijuana for adults becomes legal for adults starting at midnight, December 31. Meanwhile, however, the Denver airport is still in the process of setting up signs and getting the word out to travelers who might be thinking twice about packing something extra in their luggage.
The announcement comes as numerous reports suggest Colorado may become a popular travel destination for "marijuana tourism." Already, companies are planning to offer various pot-themed tours in which people can experience weed in different locations, including ski resorts.
"We don't know what to expect," DIA spokeswoman Stacey Stegman told Fox 31. "We hear these stories that there's going to be more people coming here. We just want to make it clear if people are traveling that they just know the rules."
It's not just travelers who could be penalized for carrying marijuana, either. Visitors and those dropping off or picking up passengers could also be subject to fines, though Stegman noted that police will not make pot searches a routine event. Those already engaged by police for fighting or being drunk, however, would be typical targets for a search.
As for the Transportation Security Administration, officials at security checkpoints won't specifically seek out marijuana. According to standard procedure, though, any contraband found during the screening process can be confiscated.
"Law enforcement will determine how to proceed with the passenger who is attempting to transport marijuana — can include arrest, confiscation of the substance, request to dispose of the substance or allowing passenger to proceed," the TSA website reads. "Passengers may be warned that if they are traveling into a state where marijuana remains illegal that they could face further consequences."
In October, however, an article published on Lawyers.com suggested the TSA might be easing its restrictions on those attempting to board airplanes while possessing pot. The agency noted marijuana is still illegal at the federal level, but added, "the final decision rests with TSA on whether to allow any items on the plane."
"Although it's a try-it-at-your-own-risk scenario, airplane passengers in certain situations are being permitted to carry marijuana on board, even if TSA agents sniff out the drugs," wrote Aaron Kase for the legal website.
Although Colorado and Washington are becoming the first two states to legalize recreational pot use, there are still many gray areas concerning the regulations that govern the drug's presence in public life. Under the new law, cities in Colorado can still ban marijuana from public areas, including airports. At the same time, more lenient policies could cause problems with federal agencies, and the DIA is hoping to make the transition as smooth as possible.
"We share a space with federal agencies, so we also have to respect their rules and regulations," Stegman told Fox 31. "We are trying to make the best of the situation. It is new, and we're all learning."
You can share this story on social media: