Educational aims? Arkansas town arms teachers to prevent school shootings
Published time: 30 Jul, 2013 14:55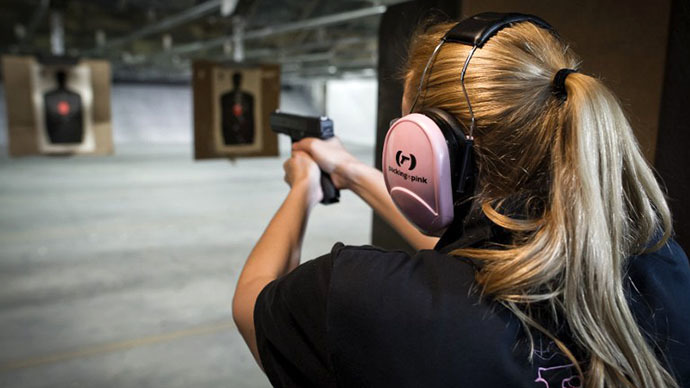 Teachers in the town Clarksville, Arkansas will be packing heat around school when students return to the classroom this August. The move is aimed at increasing security at local educational institutions amid a wave of US school shootings.
More than 20 teachers, administrators and other staff will receive 9 mm handguns as the Clarksville administration took advantage of a little-known Arkansas law, which allows licensed, armed security guards on campus.

The school employees taking part in the program will undergo 53 hours of training to be certified as guards. Signs will be posted at each school about the armed staff, but the identities of educators carrying weapons will be kept secret.

"The plan we've been given in the past is `Well, lock your doors, turn off your lights and hope for the best," Superintendent David Hopkins told AP. "But as deadly incidents continued to happen in schools, he explained, the district decided, 'That's not a plan."

After the attack at Newtown elementary in Connecticut last December saw 20 children and six teachers shot dead, the idea of arming schools against gunmen became a subject of heated debate across the US.

But, despite the strong backing of the National Rifle Association, the initiative didn't pass in even the most conservative states, facing resistance from educators and warnings of higher premiums for schools from insurance companies.  

Clarksville, which is situated in strongly conservative Arkansas where gun ownership is common and gun laws are permissive, is setting a precedent by arming its teachers. State officials for their part have no intention of blocking the plan.

The town of 9,200, located about 100 miles northwest of Little Rock, hosts an annual peach festival and isn't known for having particularly dangerous schools.

But, according to Hopkins, it is the numerous calls from worried parents after the Connecticut shooting which boosted the idea of arming the school employees. 
The superintendent said he and other Clarksville school leaders didn't see why the district couldn't rely on its own staff and teachers to protect students rather than spend money to hire security.   

"We're not tying our money up in a guard 24/7 that we won't have to have unless something happens. We've got these people who are already hired and using them in other areas," Hopkins said. "Hopefully we'll never have to use them as a security guard."

Participants in the program are given $1,100 to purchase a handgun and holster, with the district is paying about $50,000 for ammunition and drills at a private training facility.

The training narrowly tailored for teachers to respond to shooters on campus, includes simulation of various emergency scenarios.

During the drills the teachers use airsoft pellet guns, while students wear protective facemasks and jackets in order to recreate the school environment for the trainees. The pupils who took part in the exercise were the children of teachers and staff involved in the program.  

"There's pressure on you, because you're shooting real bullets if this actually happened," Cheyne Dougan, assistant principal at Clarksville school, told AP. "I was nervous to start, but once it started and I was going through what they had taught us, it just took over."

Director of training for Nighthawk Nighthawk Custom Training Academy, Jon Hodoway, said "that teacher is going to respond to one thing and one thing alone, and that's someone is in the building either actively or attempting to kill people. That's it."

"They're not going to enforce the law. They're not going to make traffic stops. If somebody is outside acting the fool, they're going to call the police," he stressed.

But not everybody seems to be happy about the Clarksville initiative as Arkansas Education Commissioner, Tom Kimbrell, believes it is the police who should provide security at schools, not teachers.

Former president of the Arkansas Education Association, Donna Morey, called the idea of arming school employees "awful," adding that the risk of a student accidentally getting shot or obtaining a gun outweighs any other benefits.

"We just think educators should be in the business of educating students, not carrying a weapon," she said.

There's also no consensus on the issue among pupils and parents. Sydney Whitkanack, who will enter seventh grade this fall, said she's grown up around firearms and does not mind if teachers are armed "if they're concealed."

While a mother of incoming eighth-grader, Sherry Wommack, said the program is the reason she's taking her son out of Clarksville school as she thinks "police officers are trained to make those decisions, not teachers."