Sandy Hook Elementary: Tear it down and build new school on same site, panel says
Published time: 11 May, 2013 14:31
Edited time: 13 May, 2013 13:31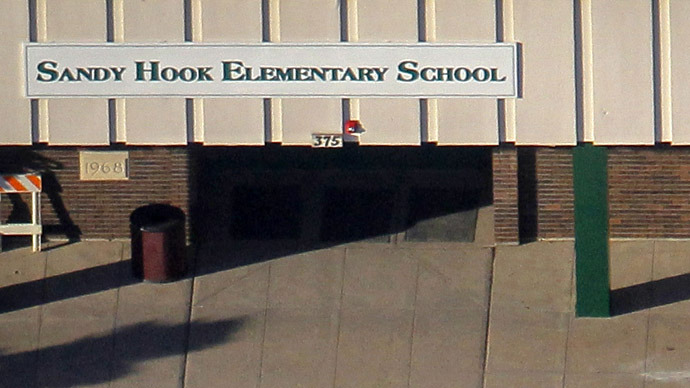 A task force of 28 officials in Newtown, Connecticut, voted unanimously to pull down Sandy Hook Elementary School and rebuild on the same property. The school was the site of a December 2012 shooting massacre in which 20 children and six adults died.
"We came together as 28, and I hope we can come together as a community to rebuild the spirit of our community and build the school together," said panel member and vice chair of the local Board of Education Laura Roche. She added that it had been "very emotional and very hard" to come to a decision about the school's future.
Before the demolition and rebuilding can take place, the proposal must go before the local school board and be approved by residents in a referendum. If approved, officials said construction could begin in spring 2014 and the new building could open in January 2016.
Plans under consideration call for a building with a shape that resembles homes and barns built in Newtown in the 1700s and 1800s, and 26 glass cupolas on the roof with spires "pointed towards heaven" in remembrance of the 26 victims, a report compiled for the task force stated.
Not all Newtown residents are in favor of the project. Many believe the school should simply be renovated, because tearing it down would be a victory for evil.
Others are adamantly against having students return to the existing building. Brian Engel, whose 6-year-old daughter Olivia died in the shooting, told the task force last week that he didn't want Olivia's younger brother to attend school in the same place where she died. Several teachers also told the task force that they didn't want to return.
Sandy Hook's 430 students are currently attending a renovated school renamed Sandy Hook Elementary School in the neighboring town of Monroe. They are expected to remain there until a new school is built in Newtown.
A regular school day turned tragic for the Newtown students on December 14 when gunman Adam Lanza opened fire with an assault rifle after killing his mother at their home. He killed himself as police arrived at the school. The massacre sparked a national debate about gun control and second amendment rights.
Police have not disclosed the possible motives for the killings, but officials have said that Lanza showed an interest in other mass killings and played violent video games.
While Newtown residents wait to have their say on what happens to Sandy Hook, they are encouraged by the prospect of the school returning to how it once was. "It's been a place for learning, for kids to grow up and it's going to go back to that," parent Daniel Krauss said.