Sandy Hook killer wanted to exceed Norwegian massacre tally – report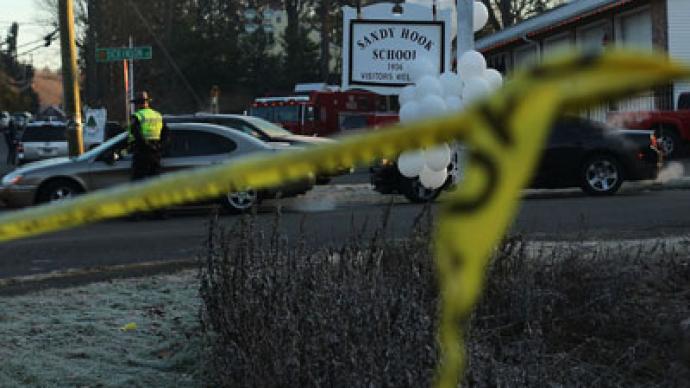 Sandy Hook shooter Adam Lanza was reportedly obsessed with Norwegian gunman Anders Breivik, who killed 77 people in 2011, and wanted to beat his death toll when he went on a gun rampage, taking 27 lives before killing himself in December 2012.
­The apparent competitive link between America's second-deadliest school shooting and Norway's worst-ever massacre was revealed to CBS News by officials close to the investigation.
According to the report, Lanza chose Sandy Hook Elementary School with its 456 children enrolled, because it was an easy target with a large number of people clustered together.
The 20-year-old may have intended to kill more people than Breivik did when he bombed downtown Oslo and went on for a shooting spree at a political party's youth summer camp, but was interrupted by the police responding to the shooting.
No official confirmation of the theory was made public.
­Police have not commented on Lanza's motive for the rampage. He is known to have been a person of high intelligence, yet socially inept, preferring to spend time in his room playing video games. His mother was a gun enthusiast, keeping an arsenal at their home and taking her son to a shooting range.
The criminal probe into the Sandy Hook shooting will continue until at least June, prosecutors announced in late January.
"All leads need to be investigated and evidence examined before final decisions and statements are made," said Connecticut State's Attorney Stephen J. Sedensky, who heads the investigation.
Both tragedies not only came as shock to their respective countries, but also triggered heated political discussions.
Following the Sandy Hook shooting, the Obama Administration proposed a renewal of the Bill Clinton-era ban on assault weapons and large capacity magazines.
In Norway, there was a call to review the country's criminal code, which allows a maximum sentence of 21 years, which some said was an inadequate punishment for Breivik's crimes.
There was also controversy over how he was allowed to promote his radical political views during the trial – ironically a feature of the liberal political system which Breivik opposes.
You can share this story on social media: