'Mini Abu Ghraib': Norway mass murderer files 27-page complaint over jail conditions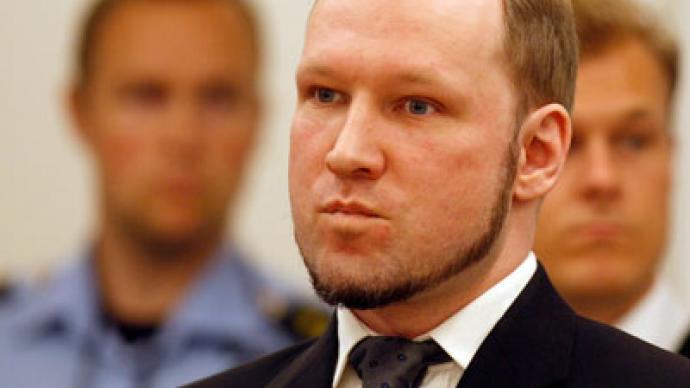 Norwegian mass murderer Anders Breivik has typewritten a 27-page letter calling his prison conditions "a mini Abu Ghraib." He claimed guards watch him while he takes vitamins and brushes his teeth, and that his prison director wants revenge on him.
"If it wasn't for the fact that I am an exceptionally patient person, I would most likely have lost my mind in pure frustration. Anyway, there are limits to what a person can take," AP quoted Breivik's letter as saying.Breivik claimed that the prison's director wanted to exact a personal revenge on him and that guards interfered with his strict daily schedule, in which each activity is timed to the minute.The mass murderer wrote that numerous practices at the prison facility are "degrading" – he is apparently watched while taking vitamins, and isn't allowed a mop to clean his cell. Breivik also wrote that he is strip-searched daily, sometimes by female prison guards."Use of a toothbrush and electric shaver is always under supervision. One is therefore under mental pressure to finish quickly as the guards are tapping their feet outside the cell. … This limits brushing to once a day and shaving to once a week in order not to have to go through the mental ordeal more often than necessary," he said.In his letter, the mass killer compared his prison to Abu Ghraib, a prison facility in Iraq that became notorious in 2004 when photos were released showing detainees being abused by US soldiers."Therefore there is the likelihood that Norway's own 'mini Abu Ghraib,' in the cellars of Ila Prison, are being kept a secret and that Norway's human rights ambassadors' work to spread the 'world's most humane principles' are avoiding being embarrassed," he said.Breivik also complained about not having candy and being served cold coffee, and that his guards had not provided him with a good reading lamp.A spokesperson for Ila Prison, where Breivik is being held, said that no security restrictions have been lifted despite previous complaints. However, he received a normal pen to replace his rubber safety pen, which he described as an "almost indescribable manifestation of sadism."He sent a copy of his letter to Amnesty International, the Associated Press, the International Press Center in Oslo and a few Norwegian media outlets.Earlier this month, Breivik was given an electric typewriter, though not because of his complaint letter, or his previous statement branding his prison conditions "inhumane." During pre-trial detention, the mass killer was allowed to use a computer that could not be connected to the Internet. The privilege was revoked when he started serving his jail sentence.The 33-year-old right-wing fanatic murdered 77 people in two terror attacks last year in Norway's worst peacetime massacre. A car bomb planted by Breivik outside government offices in Oslo killed eight people; he then drove to the nearby island of Utoya, where he massacred 69 people in a shooting spree at a youth summer camp. He was sentenced to 21 years in prison for terrorism and premeditated murder, a sentence that can be extended if Breivik is deemed to still be a threat after serving his term.
You can share this story on social media: