CISPA godfather claims Anonymous is after him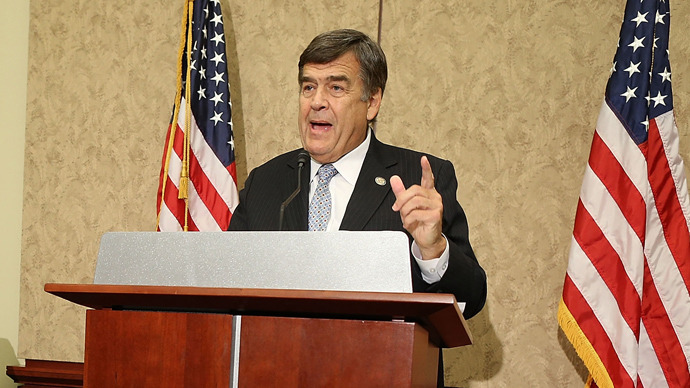 A co-author of the Cyber Intelligence Sharing and Protection Act says the hacktivist group Anonymous threatened him and others members of Congress on account of their support of CISPA.
The cybersecurity act known as CISPA overwhelmingly passed in the United States House of Representatives earlier this month only to ultimately once again stall in the Senate. Citing the same privacy concerns brought up by opponents outside of Washington, lawmakers in the Senate now say they are unlikely to consider the bill, suggesting that for the second time in as many years CISPA will fail to find its way out of Congress.
But even if those privacy woes indeed warranted a negative reaction from US senators, a co-author of CISPA suggests members of Anonymous had something to do with the defeat.
During a recent interview with Washington, DC-based The Hill, Rep. Dutch Ruppersberger (D-Maryland) said Anonymous hacktivists threatened members of Congress and encouraged anti-CISPA activists to attack supporters of the bill that he co-authored with Rep. Mike Rogers (R-Michigan).
"Anonymous was threatening us. Anonymous was telling [others] to shut down people who supported the bill and that kind of thing," Ruppersberger told the paper during an interview published over the weekend.
When CISPA was introduced by Rogers and Ruppersberger for the first time in 2011, public outcry over alleged privacy violations spurred a legion of opponents to protest on the Web and on the streets. Upon the bill's reintroduction earlier this year, a similar call to arms was made for privacy advocates to stand up and fight against the argumentative cyber act.
CISPA was described by its authors as being able "to provide for the sharing of certain cyber threat intelligence and cyber threat information between the intelligence community and cybersecurity entities," but its opponents have raised a number of questions about at what cost. Under CISPA, federal agencies — namely the US Department of Homeland Security and the Department of Justice — would intercept and monitor Internet traffic in order to analyze and deter any attempted cyberattacks. Critics have condemned it, however, saying it essentially allows online businesses to escape liability when letting Uncle Sam spy on Internet activity.
The Electronic Frontier Foundation, one of the largest anti-CISPA groups, wrote of the bill, "It is written so broadly that it allows companies to hand over large swaths of personal information to the government with no judicial oversight — effectively creating a 'cybersecurity' loophole in all existing privacy laws."
Citing the growing opposition this time around, Rep. Ruppersberger told the Hill recently that he purposely asked other members of Congress favoring his bill to stay silent on the issue until the last moment possible to avoid an alleged backlash: three days before the act went up for vote in the House, recalls the Hill, the number of co-sponsors of CISPA jumped from two to 36.
"I didn't want to put anybody who was going to support the bill ... to be subjected to those attacks in their districts, and calling and threatening and that type of thing, so we really decided to not get anybody on the bill right away and to educate people right to the end," Ruppersberger said.
What exactly Ruppersberger means by attacks isn't exactly obvious, but the call-to-arms that occurred leading up to the recent House vote is virtually inescapable. As with last year, members of Anonymous — along with the EFF, American Civil Liberties Union and others — went quite public with their opposition to the bill as it was readied for a congressional vote.
Last Monday more than 200 websites went offline in protest of CISPA, and the website Reddit and Web browser Firefox both informed their users of the legislation with predominantly displayed messages.
On their part, one message circulated by Anonymous and viewed over 22,000 times appears void of any actual threat, and instead asks opponents to voice their opinion about the bill using a viral Internet campaign. "Anonymous has asked numerous companies to participate in an Internet blackout on Monday, April 22. But, regardless of what these companies choose to do, individuals like ourselves can still help spread awareness of this threat. Below is a link to an image that promotes the hashtag #StopCISPA on Twitter. Make it your profile image all day Monday. Leave it up as long as you want," reads the post uploaded to PasteBin and attributed to Anonymous.
"Tweet to #CISPA Reps @Call_Me_Dutch and @RepMikeRogers and tell them you oppose theirbill," reads another highly-read posting. Yet another message, viewed more than 7,000 times in under a week, contained the publically available office phone numbers for every congressman that voted for CISPA, along with information on how to raise objections with members of the Senate.
Since the bills passed in the House, a number of Washington sources have suggested that the Senate will once again let the bill die. Sen. Jay Rockefeller (D-West Virginia) said of CISPA that its "privacy protections are insufficient," and the ACLU's Michelle Richardson told US News & World Report that the bill was likely "too controversial" and "too expansive" to be considered by the Senate as is. Meanwhile, though, a report published by RT last week reveals that the federal government has already started to implement similar cybersecurity practices that put select parts of the Internet under the radar of the DHS.
You can share this story on social media: