IRL action: Anonymous takes to the streets to protest CISPA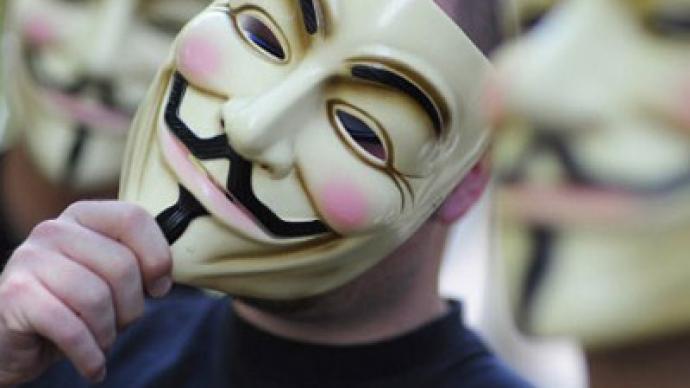 Anonymous is taking its battle against CISPA to the streets. A video titled "Operation Defense. Phase II" calls on Americans to organize protests at the local offices of companies that supported the controversial bill recently adopted by the House.
In a video, released by "The Anonymous Message" YouTube channel, the group admits that distributed denial of service attacks (DDoS) are not as effective as they were a year ago. A number of websites have upgraded their servers to withstand the assaults.Instead, Anonymous calls on Americans concerned with losing their Internet privacy rights to take the battle to the street. In a video statement, the hacktivists urged people to organize mass demonstrations at local offices of corporations that backed CISPA. "To the citizens of the United States of America: We are Anonymous," a synthesized voice announces. "This is a special emergency message regarding the status of the Cyber Intelligence Sharing and Protection Act. CISPA has passed the legislature. We are calling upon the citizens of the United States to physically protest. This includes all the Occupy movement. Our rights are being taken away."The video then goes on to provide exact details of the time, place and nature of the protests. The first company set to take the blow is AT&T, whose local offices will be targeted for protest between May 1 and May 5. Similar protests will follow near the offices of IBM, Intel, Microsoft and Verizon Wireless. Anonymous also invites CISPA opponents to boycott Pepsi and Coca Cola products between June 11 and June 14.     The video also reminds Americans to wear a Guy Fawkes mask at the protests and to seek support from the local Occupy movement. They also advise people to stage the rallies "across the street from the headquarters or buildings so as to not get evicted or arrested.""Remember, you have a right to protest if you care about your freedom of speech, your right to privacy and your government censoring you. This is your time to act now. We will defend our home. Operation Defense phase two engaged. We are Anonymous. We are legion. We do not forgive. We do not forget. Supporters of CISPA, you should have expected us," the video-statement concludes.
How Tom Cruise made Anonymous famous
Although Anonymous is most famous for its online activities, its streetwise approach is actually nothing new.The group first gained worldwide press attention in 2008 for organizing street protests against the Church of Scientology. Back then, Anonymous was outraged by the fact that the Church tried to remove an interview with Tom Cruise, one of Scientology's most famous adherents, from YouTube.Accusing the Church of trying to censor the Internet, Anonymous responded by launching Project Chanology. Initially the project's members organized several DDoS attacks against Scientology websites, made prank phone calls and sent black faxes to Scientology centers. Several days later, Anonymous decided to launch a "War on Scientology." YouTube videos "Message to Scientology" and "Call to Action" invited Anonymous supporters to rally outside Scientology centers worldwide. The videos also accused the Church of Scientology of financially enslaving its followers.As a result, thousands of people took to the streets of Boston, Dallas, Chicago, New York City, Los Angeles, Paris, London, Manchester and many others to protest against the Church of Scientology.
Anonymous – a history of hacktivism
Anonymous was founded on the imageboard 4chan in 2003. The hacktivist group is open, and any hacker can apply the Anonymous label for his or her attacks, thus joining the movement.For the first five years of its existence, it was a little-known, decentralized online community. In 2006, the group organized the so-called "Habbo raids" on the social networking site Habbo. Hacktivists responded to the news of an Alabama amusement park barring a two-year old toddler infected with AIDS from entering its swimming pool by creating characters dressed in suits that said the pool was "closed due to AIDS." They flooded the site with Internet sayings and organized in swastika-like formations. When the hacktivist profiles were removed, they complained of racism. In December 2006-January 2007, Anonymous took down the website of white supremacist radio talk show host Hal Turner. Turner later unsuccessfully sued 4chan and other websites. Anonymous' popularity soared in recent years, as the group carried out a number of coordinated DDoS attacks against government and corporate websites. Many of Anonymous' actions have targeted organizations that they believe promote Internet censorship.In 2010 the group attacked a number of anti-piracy websites as part of Operation Payback, in retaliation against a DDoS attack on torrent sites by piracy opponents. In 2011 Anonymous organized attacks against a number of government websites worldwide, including those in the US, Tunisia, Israel, Malaysia and Syria. In January 2012 hacktivists took down the websites of US Department of Justice, the US Copyright Office, the FBI, the MPAA and a handful of others. In February Anonymous announced that it would be attacking "corrupt corporate and government websites" every Friday. Since then, it has also taken down websites of the CIA, Interpol, AIPAC and others. Corporate and government websites aren't Anonymous' only targets. Last year Anonymous hacktivists took down 40 child pornography sites and published the names of over 1,500 people who frequented them as part of Operation Darknet. A number of Anonymous activists also took part in Occupy protests, and expressed their support for the aims of the grassroots movement. In 2012, Time Magazine named Anonymous as one of the most influential 'people' in the world – in results determined by an online vote.
You can share this story on social media: