Anonymous calls for Internet blackout to protest CISPA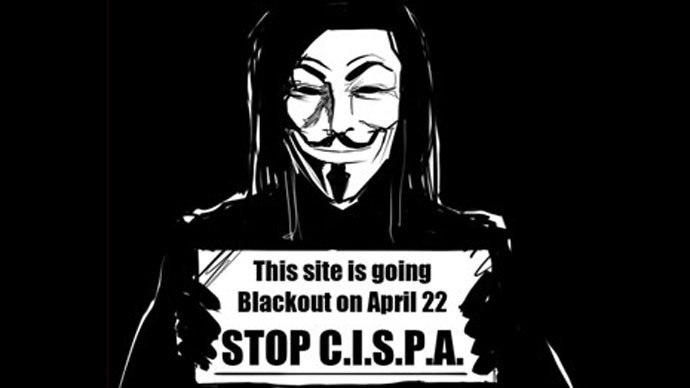 A mass blackout of Internet sites has begun in protest of CISPA, as the controversial law makes its way to the US Senate. Hacktivist group Anonymous urged support for the blackout, storming Twitter with calls for action.
Anonymous has been calling on all websites to blackout their pages ever since the Cyber Intelligence Sharing and Protection Act (CISPA) passed the US House of Representatives on Thursday.
Over 450 websites joined the protest on Monday, blacking out their Internet pages. Site hackersnewsbulletin.com published a list of the participating websites.
In order to raise awareness for this legislation, Reddit has blacked out parts of its 'subreddits' sections - depending on the users' vote. It is still possible to "use the reddit - it would look a lot like /r/askreddit or /r/funny," the website says on its page.
Meanwhile, Reddit's /r/worldnews section has been grayed out and shows a link "to help us stop CISPA".
In a statement posted on Pastebin.com, the group has asked all the Internet users to dedicate
"at least a portion" of their day to help in the fight against CISPA.
Call ur favorite websites to #blackout for 24 hours. Let's show the unity and power of the Internet they're trying 2 exploit! #CISPABlackout

— Anonymous (@YourAnonNews) April 18, 2013
If signed into action, the law would allow the US government to extract private information from the Internet without a warrant. It would also prevent anyone from suing companies for delivering such information.

"It's the online equivalent of allowing a police officer to enter your home and start rummaging through your personal files without the permission of a court," Anonymous compares.
However, the group also stressed the blackouts were necessary to attract attention, while the most important part was spreading awareness about the disputed law, and possible action against it.
Only websites blackout w/ CISPA info. We want people to tweet ALL DAY about CISPA during #CISPABlackout. Read: pastebin.com/81HcZ3ug

— Anonymous (@YourAnonNews) April 21, 2013
The group did not mention planning any cyber-attacks to mark the protest day. Instead, it is up to the websites to decide if they're going dark for 24 hours on Monday. So far, it has remained unclear how many websites would participate.
Over the weekend, Anonymous-linked accounts have been trying to get the hashtag #CISPABlackout to trend on Twitter, storming the social media outlet with related messages, pictures and video clips.
RT @57un: #Anonymous calls for twitter storm @ 6pm EST today to raise awareness of #CISPABlackout protest on 4/22 flip.it/EoHox

— AnonFist (@FistHeldHigh) April 20, 2013
On January 18, 2012, the Internet blackout was used by more than 7,000 websites, including Wikipedia, Reddit and Google, marking the WWW-wide protest against SOPA (Stop Online Piracy Act) and PIPA (Protect IP Act), which were shelved indefinitely just days after the action.
You can share this story on social media: