Kill the Bill: Internet-ional 'Stop SOPA' day sweeps the web
Published time: 18 Jan, 2012 09:14
Edited time: 18 Jan, 2012 22:57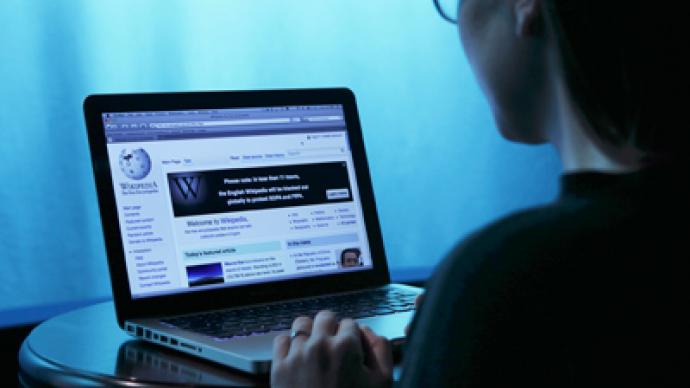 ­Thousands of websites have joined the blackout in protest against the SOPA bill, as the controversial legislation is put to a vote in the US Congress. Participants range from giants like Wikipedia and Craigslist to tiny individual pages.
The world's biggest online encyclopedia went on strike for 24 hours at midnight East Coast Time. Other majors like Reddit opted for a 12-hour blackout.
The list of strikers includes filmmaker and campaigner Michael Moore, the popular game Minecraft, environment activists Greenpeace, the group blog BoingBoing and many others. The racy website Suicide Girls used "Stop SOPA" stripes to cover up an otherwise naked women.
Many supporters of the protest, including Google, WordPress.com and Mozilla Foundation have not blacked out their content, but have added info pages and links explaining why they oppose the controversial bill and its Senatorial sibling, PIPA.
Social networking services like Facebook, Twitter and Google+ are up and running – as open venues for individuals to share their views on the protest. So far the blackout seems to be receiving overwhelming support from ordinary users.
Google had its logo covered by a black censorship rectangle to invite US users to support the blackout
On Twitter, roughly half of the most popular worldwide trends were related to the blackout in the first hours after Wikipedia went offline.
Over 850,000 people "liked" the Stop American Censorship website that provides information about the bills, their potential effects, and what one can do to stop them from passing. The website offers a checklist of actions anyone can take to support the protest, including sending an email to Congress and signing a petition which will be sent to the US State Department.

Meanwhile, supporters of the SOPA/PIPA legislation were quick to lash out at the protest.
"This publicity stunt does a disservice to its users by promoting fear instead of facts," said Lamar Smith, chairman of the House Judiciary Committee and a sponsor of SOPA. "Perhaps during the blackout, Internet users can look elsewhere for an accurate definition of online piracy."
Former senator Chris Dodd, who now chairs the Motion Picture Association of America, labeled the blackout a "gimmick" and called for its supporters to "stop the hyperbole and PR stunts and engage in meaningful efforts to combat piracy."
SOPA/PIPA are aimed at curbing copyright infringement online by empowering law enforcers and copyright holders with many privileges in prosecuting violators and their partners. Opponents point out that the vagueness of the bills' wording and the scope of their powers have resulted in an overkill which threatens to cripple the Internet.
Conor Kennedy from the Progressive Change Campaign Committee told RT that if passed, the bill would simply allow big shots from the media industry to wipe out any competition – and not in a fair way. "No one is opposed to bills that fight piracy", Kennedy said. "But at the same time we need to be aware that large corporations are going to be able to use these laws to drag their fair competitors into court instead of competing with them in the marketplace. For small innovators that don't have access to money for legal fees yet, that just spells out the end of the internet as we know it."

Netheads might find it useful to know that Wikipedia and other blacked out web pages are easily accessible during the protest. Just disable JavaScript in your browser options. The trick is hidden in plain sight – right in the encyclopedia's FAQ on the protest.