Obama advisers say they will urge president to veto CISPA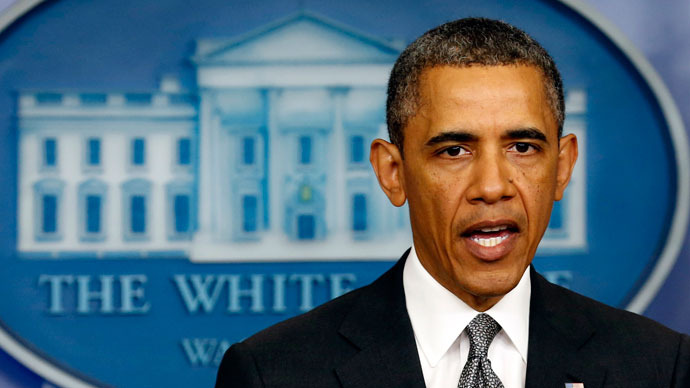 Senior White House advisers say they will recommend US President Barack Obama veto the Cyber Intelligence Sharing and Protect Act (CISPA) if Congress approves the controversial computer bill.
In a statement issued Tuesday afternoon by the Executive Office of the President, top advisers say they will ask Mr. Obama to reject the CISPA bill if it proves successful on Capitol Hill.
"The Administration recognizes and appreciates that the House Permanent Select Committee on Intelligence (HPSCI) adopted several amendments to H.R. 624 in an effort to incorporate the Administration's important substantive concerns. However, the Administration still seeks additional improvements and if the bill, as currently crafted, were presented to the President, his senior advisors would recommend that he veto the bill," the statement reads in part.
Members of Congress are expected to discuss the legislation in Washington this week. The House Intelligence committee overwhelmingly approved an updated draft of the bill last Wednesday afternoon by a vote of 18-to-2, setting the stage for a vote in the coming days.
The authors of CISPA, Rep. Mike Rogers (R-Mich.) and Rep. Dutch Ruppersberger (D-Md.), originally debuted the bill before the last Congressional session, but that season ended without lawmakers agreeing on a cybersecurity act of any sort. Had they succeeded, however, Pres. Obama's office said in a statement last year that "his senior advisors would recommend that he veto the bill" if it passed Congress in that incarnation.
Reps. Rogers and Ruppersberger responded by reintroducing CISPA earlier this year, urging colleagues to pass the act as it could serve as a desperately needed solution to the growing number of cyberattacks reportedly striking US targets. Hours before that unveiling, Pres. Obama said, "Congress must act as well, by passing legislation to give our government a greater capacity to secure our networks and deter attacks."
If CISPA is passed, private businesses will be encouraged to share personal user data with federal investigators in order to allegedly combat sophisticated cyberattacks waged at the United States' critical infrastructure. Critics of CISPA say the bill opens the door for widespread snooping, though, and would erode what privacy still exists in America today on the Web.
After last week's vote, Reddit.com co-founder Alexis Ohanian said, "I'm hoping that all of these tech companies take the stand, that their privacy policies matter, their users' privacy matters. . . and no legislation like CISPA should take that away."
Fellow Reddit.com co-founder Aaron Swartz described the bill as "incredibly broad and dangerous" during an interview with RT last year. Swartz, 26, committed suicide in January weeks before he was expected go on trial for an unrelated computer crime case.
This week's statement from the White House continues in part:
"The Administration agrees with the need to clarify the application of existing laws to remove legal barriers to the private sector sharing appropriate, well-defined, cybersecurity information. Further, the Administration supports incentivizing industry to share appropriate cybersecurity information by providing the private sector with targeted liability protections. However, the Administration is concerned about the broad scope of liability limitations in H.R. 624. Specifically, even if there is no clear intent to do harm, the law should not immunize a failure to take reasonable measures, such as the sharing of information, to prevent harm when and if the entity knows that such inaction will cause damage or otherwise injure or endanger other entities or individuals."
You can share this story on social media: