Ex-CIA chief: Amnesty for Snowden idiotic, he 'should be hanged by his neck'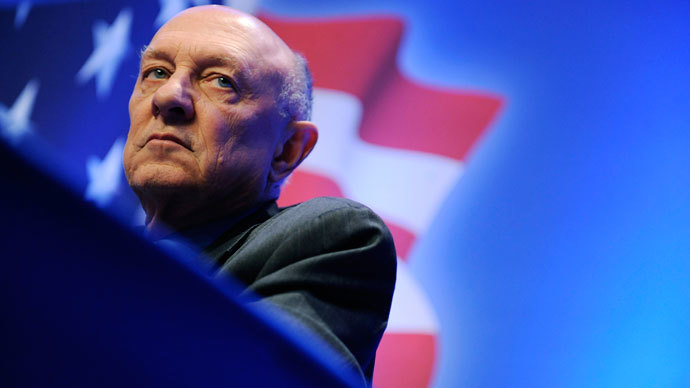 ​A former head of the Central Intelligence Agency has said that anyone thinking about granting NSA whistleblower Edward Snowden amnesty is out of their mind and that Snowden should be "hanged" if he is ever convicted of treason.
James Woolsey, who served as director of the intelligence agency from 1993 to 1995, and former Chairman of the Joint Chief of Staff General Hugh Shelton told Fox News the prospect of giving Snowden legal immunity would be a serious mistake.
"I think giving him amnesty is idiotic," Woolsey said. "He should be prosecuted for treason. If convicted by a jury of his peers, he should be hanged by the neck until he is dead."
The interview came days after Rick Ledgett, head of the National Security Agency task force charged with gauging the damage Snowden's leaks have done to the agency, told CBS' "60 Minutes" he would be open to discussing amnesty for Snowden if the former contractor returned any classified files still in his possession.
"My personal view is, yes, it's worth having a conversation about," Ledgett said. "I would need assurances that the remainder of the data could be secured and my bar for those assurances would be very high. It would be more than just assertion on his part."
Yet Ledgett did admit his idea is likely unpopular throughout Washington's upper echelon. Gen. Shelton told Fox News Tuesday that granting Snowden amnesty would be a "grave error."
Snowden, who was granted temporary asylum in Russia earlier this year, said Tuesday that he was willing to disclose more data that the NSA collected on Brazil in exchange for asylum there. A number of South American countries offered to grant Snowden asylum before Russia, but the outrage has become so loud in Brazil that President Dilma Rousseff postponed an official state visit to the US because of the ongoing surveillance revelations.
White House press secretary Jay Carney said Tuesday that the Obama administration has not changed its position from a prior statement calling on Snowden to return to the US and face the charges against him.
"It remains our view that Mr. Snowden is accused of leaking classified information and that he faces felony charges here in the United States," Carney said.
Former CIA Director Woosley previously criticized the US for failing to use a strong hand with Russia, implying that President Vladimir Putin's past experience with the US taught him that granting Snowden asylum would not come with any negative consequences.
"His general attitude is don't be weak, and that's fine, but he's not really doing anything else except avoiding being weak, simply trying to throw his weight around with respect to the United States," Woosley told MSNBC in June.
"He's not cooperating, really, on anything substantial, and there's no risk in it for him. He doesn't have anything negative happen when he behaves that way with us, so the kind of cooperative relationship we had from time to time in the past, say with Gorbachev, is just not here…he's almost impossible to work with."
You can share this story on social media: