Is Thursday the last day of the Chicago teachers strike?
Published time: 13 Sep, 2012 16:06
Edited time: 13 Sep, 2012 20:06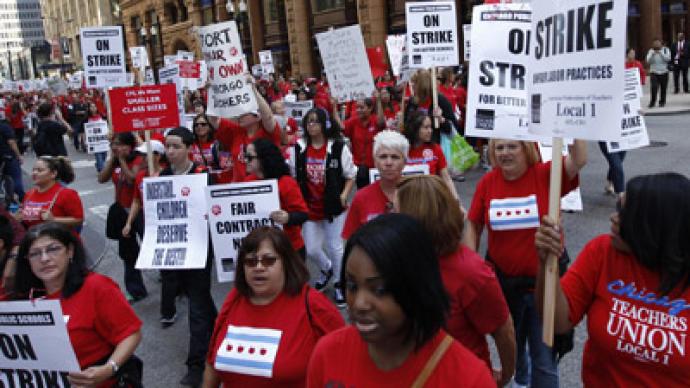 The president of the Chicago Teachers Union says she expects that educators in the Windy City will return to classrooms as early as this Friday, ending a massive strike that brought the third-largest school district in the US to a halt this week.
Karen Lewis, president of the CTU, tells parents in a public statement made Wednesday, "for sure, plan for something for your children for [Thursday]. Let's hope for Friday.''
Teachers with the CTU have been on strike since Monday morning, leaving roughly 350,000 school children without a place to go. Around 29,000 educators belong to the union, which represents teachers across Chicago, Illinois.
The strike was officially called for late Sunday evening, largely over concerns with a teacher evaluation system that educators worry would unfairly force them out of their job if their students do not perform up to the city's standards. CTU President Lewis called the system "unacceptable."
Wednesday evening, Lewis told the Chicago Sun-Times that the city school system's position on the evaluation matter had improved to the point that she told the paper, "I'm smiling. I'm very happy.''
School Board President David Vitale added that talks were "very productive" and said "we'll hope for Friday."
Wednesday's negotiations were expected to involve allow teachers to retain their jobs indefinitely on the condition that students' tests scores did not slump significantly. Chicago Public Schools spokeswoman Becky Carroll sent the 19-page proposal to the Sun-Times on Wednesday night and said, "I would call it a significant step forward on one of the two thorniest issues."
Only a week before the CTU launched their strike, Lewis said Lewis pending negotiations with the city were based on "a fight for the very soul of public education" and that "The commitment to the children of the city of Chicago is in our hearts, in our minds".
"It's in the work we do," said Lewis.
Chicago Mayor Rahm Emmanuel, a former White House chief of staff under US President Barack Obama, responded by saying of the matter, "This was a strike of choice. And it's the wrong choice for the children."