Windy City rampage: 19 shot overnight in Chicago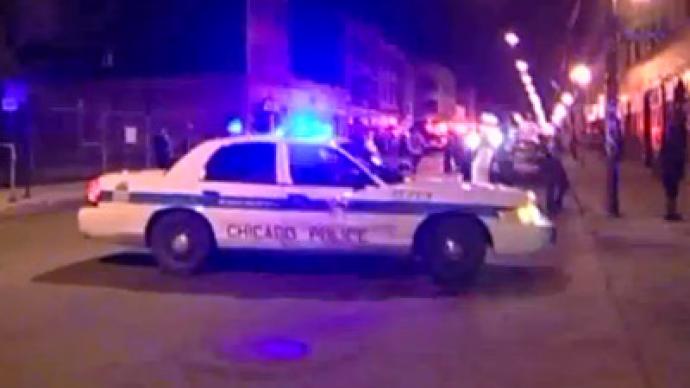 Americans turned to New York early Friday for a dose of doom and gloom, but the murder scene outside of the Empire State Building wasn't the only mass shooting site in the country during the last few hours. In Chicago, 19 people were shot overnight.
In the midst of a surge in shootings in the Windy City that have occurred in recent weeks, police officers in Chicago, Illinois were once again busy responding to reports of shots fired late Thursday and into early the next day.
Two 14-year-old boys, one 15-year-old boy and a 19-year-old woman are among the injured in Chicago last evening after a drive-by shooting in the city's South Side shortly after 9 p.m. sent eight people to the hospital.
Within only 30 minutes, at least four separate shootings left 13 people injured, including several teenagers. By Friday morning, 19 people in all had been shot in Chicago during the evening hours, with police reporting zero fatalities.
Thursday night's shootings are not unusual in Chicago.
Chicago's Red Eye newspaper reports that 15 people were killed in the city during the week ending August 22, including six homicides occurring at one point on a single day. At the time, the city reported 40 homicides in the month of August, already surpassing last year's tally of 37 with still two weeks to spare.
When RT reported earlier this summer of a homicide epidemic occurring in Chicago, it was said that the number of fatalities in the Midwest city in 2012 surpassed the death count of US troops in Afghanistan.

With four months left in the calendar year, Chicago is already close to surpassing last year's homicide count.
"Over the Memorial Day weekend, in a 72-hour period, we had 12 people killed and another 45 people shot." WBEZ Chicago Public Radio host Robert Wildeboer told National Public Radio during a July 10 interview.
"Thirteen people were shot in one 90-minute stretch, and so that's really focusing public attention on this issue right now," Wildeboer added. "You know, just last night, eight people were shot in the city of Chicago. But some of the numbers were just so shocking, A, that murder's up 40 percent over last year. B, there have been a number of really violent weekends in Chicago where the numbers are just so striking, everybody's just, like, what in the world?"
And while Chicago's shootings have taken center stage, that isn't to say incidents aren't being reported elsewhere. The Friday morning shooting outside of the Empire State Building in New York City that left two dead and at least eight injured marked the third mass shooting to make national headlines in barely a month.
Only five weeks earlier to the day, 24-year-old James Holmes is believed to have opened fire in an Aurora, Colorado movie theater, killing 12 and injuring dozens more. Including that massacre's statistics with the August 5 Sikh temple shooting outside of Milwaukee and Friday's NYC shooting, 21 people have been killed in just those three shootings alone.
The Brady Campaign to Prevent Gun Violence reported last month that the United States experiences an average of around 20 mass shootings each year as of late, and at the time of the early July Aurora, Colorado shooting, the study called the theater massacre the sixth mass shooting in the month of July alone.
On Thursday, the satirical news and humor site The Onion published a joke article under the headline "Nation Celebrates Full Week Without Deadly Mass Shooting." After Friday morning's incident at the Empire State Building, the outlet updated it with a brief addition: "Never mind."