New hearings give voice to 100 inmates allegedly tortured by Chicago police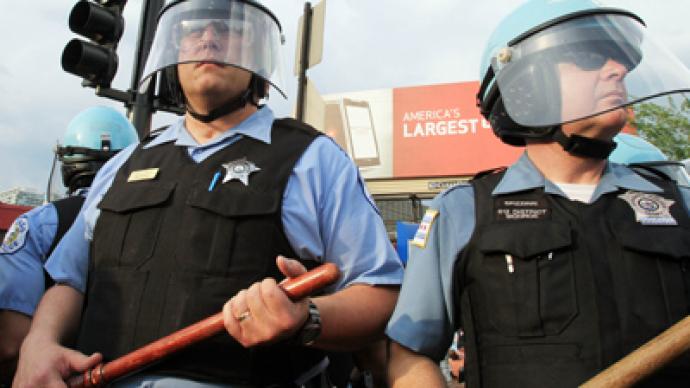 One hundred alleged victims of abuse at the hands of Chicago police officers, have been granted hearings to describe the torture they faced. For decades, minority inmates were beaten, shocked and suffocated into confessing their crimes.
The Chicago police officers were said to be racially motivated in their actions, abusing African American men arrested on the south and west sides of Chicago for four decades, the Courthouse News reports. Some of the officers are already serving jail time for their involvement in the torture, but new hearings requested by victims Johnnie Plummer and Vincent Wade will take place for 100 additional victims of their abuse.
The police officers in question are Lt. Jon Burge, Sgt. John Byrne and those working under their command. Burge, a 64-year old Army veteran, who gained notoriety for torturing hundreds of criminals between 1972 and 1991.
The victims of abuse were "subjected to racially motivated physical abuse – including electric shock, mock execution, suffocation with a plastic bag and beating – that caused him to inculpate himself involuntarily in a crime," the court complaint states.
Burge also burned victims with cigarettes and radiators, used a cattle prod on inmates, electrocuted men in their genitals, and used violet wands, hair dryers and stun guns to further harm men's genital regions. The officer has also been accused of supervising the electrical shocking of a 13-year-old boy.
Plummer claims that he was forced to confess to murder when he was 15 years old. He says officers under Burge's command threatened him, beat him with a flashlight and pulled his hair. As a result, Plummer has been in prison for 21 years without a fair hearing, the complaint states.
Wade has spent 28 years in prison after being tortured to confess to murder, home invasion and armed robbery. He says he was smacked on the nose with a flashlight, kneed in the groin, punched in the eye and beaten on his chest with a baton and phone book.
The complaint requests the court look at the "mountain of new evidence" against Burge and Byrne to find justice and give all the still-incarcerated victims of torture a full and fair hearing.
"Unless the Illinois criminal justice system affords this necessary relief to this class of men, Burge's legacy will never be eradicated," the complaint states. "This petition affords this court the opportunity to do what justice requires."Burge is already serving four and a half years in prison. He was sentenced in January 2011. Some of his victims have expressed outrage that his sentence wasn't harsh enough. The new hearings, scheduled to begin Oct. 29, will likely bring further evidence against the lieutenant officer who has gained notoriety for his acts.
"Torture and physical coercion was a routed and accepted occurrence under the command and supervision of Jon Burge and John Byrne,"  the complaint states. "The cases of every alleged victim must be re-examined with fresh eyes in light of Burge's conviction and this mountain of evidence."