Chicago starts posting photos of dead bodies online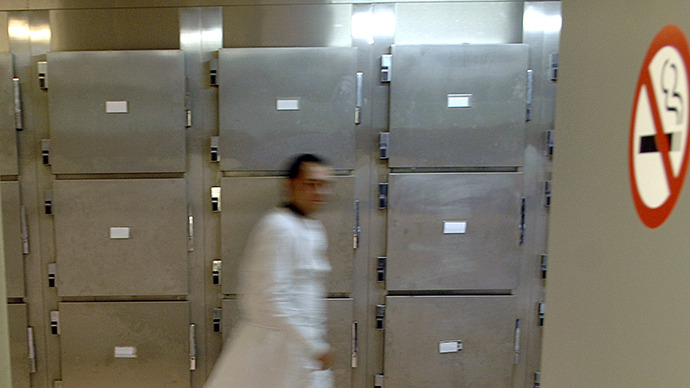 A Chicago-based medical examiner's office has started posting photos of unidentified dead bodies on its website, hoping that families of the deceased will find the information useful. But posting the graphic images has become a controversial move.
By posting disturbingly detailed images of the decaying corpses, the Cook County Medical Examiner's Officer has been scrutinized for its insensitivity. The website lists descriptive features – some accompanied by photos – of unclaimed bodies found as far back as September 2009.
One photo accompanies a description of a 60-year-old Asian female who was found dead on May 2011. Another photo shows the corpse of a gray-haired old man who has been dead since November 2010. The unidentified bodies are preserved in coolers, waiting to be claimed by friends or family who might stumble upon the website.
Together with hundreds of other corpses, they are stacked in containers – as many as 500 of them in a cooler designed for 300, a source familiar with the office told the Chicago Sun-Times.
But with coolers filled beyond their capacity, the medical examiner's officer is desperately looking to have the missing persons claimed.
"For the some discomfort that it may show, that people may feel looking at some of the images, it's worth it to reunite some families," Cook County Medical Examiner Dr. Steve Cina told Fox 32 News.
"We're hoping that that photo can trigger somebody's memory, that you know, that person grew up down the street from me, or that person used to live nearby and I know where their mom is," Cina added.
Clicking on a link that goes to a photo first provides a warning about the graphic nature of the image. In some cases, the medical examiner's officer provides multiple images, depicting the bodies' tattoos and other identifying information. Cina claims that his office has already had one success story, and he hopes that the photos will lead to more.
"There are so many individuals out here who are missing, so maybe this will give us an opportunity to locate them," Regina O'Neal, who was at the morgue waiting to view a body, told Fox. Although the woman feels uncomfortable with the idea that anyone can view the bodies online, she believes that the pros outweigh the cons.
The Chicago-based morgue lists several unidentified bodies, but also nearly 50 unclaimed ones whose named as often known, but whose family members have had no money or desire to pay for a burial.
The Cook County Medical Examiner's Office has held onto corpses that have been dead for years. Many medical examiners' officers around the country hold onto corpses for years, sometimes decades. In Philadelphia, unidentified or unclaimed bodies are kept for a minimum of three months. But when grieving families can't afford a burial or have no desire to claim their loved ones, the county frequently takes over. In 2011, Cook County began to donate unclaimed remains to science, unless families object. But the county hopes that those who are unidentified will be discovered by friends or family who stumble upon photos of the deceased.
"Maybe we've just given that family a chance to end a statement with a period, instead of a question mark," Cina told Fox. "You know maybe that's the best we can do it at our end of the business."
You can share this story on social media: