JPMorgan Chase CEO denounces bitcoin as 'terrible,' predicts its downfall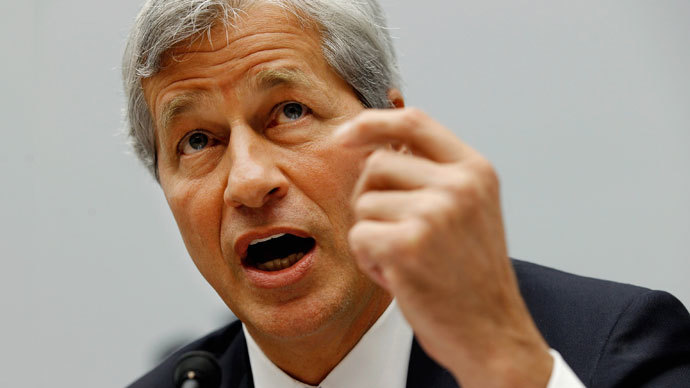 The head of the largest bank in the US said Thursday that bitcoin is a "terrible store of value," in part because international governments, bankers, and other officials are unsure whether they can trust the digital currency.
Jamie Dimon, the CEO of JP Morgan Chase - which has $2.509 trillion in total assets - told CNBC that the cryptocurrency does not have much staying power because the hurdles it faces are insurmountable.
"It's a terrible store of value. It could be replicated over and over," he said. "It doesn't have the standing of a government."
Bitcoin proponents say that the currency's ability to exist without any centralization is what makes it so appealing. It is a peer-to-peer payment system that is formulated when computers compete with each other to "mine," or solve cryptographic problems, and are assigned bitcoins as a reward.
The use of bitcoin became so prevalent in 2013 that its value surged from $13 to over $1,000 by the end of the year, when it was the subject of Senate hearings that were largely neutral and at times positive towards the digital currency.
Dimon went on to cite media coverage that reported on the use of bitcoin for nefarious purposes - drugs and the solicitation of murder among them.
"And honestly, a lot of it – what I've read from you guys – a lot of it is being used for illicit purposes. And people who will get upset with it is governments," Dimon said. "Governments put a huge amount of pressure on banks: know who your client is, did you do real reviews of that. Obviously it's almost impossible to do with something like that."
Despite any flaws bitcoin may have, the digital currency has proven to be an especially popular system worth investigating, and has spawned a growing list of parallel online currencies, including Litecoin, Dogecoin, and Coinye. Chase seems to agree, as the bank filed a patent application back in 2000 claiming a "computer-implemented method of providing an anonymous payment."
US Treasury secretary Jack Lew, also speaking to CNBC, said that he has spoken to leaders in the financial industry and has decided that the current course of action will consist mostly of a wait-and-see strategy.
"Bitcoin is a phenomenon that we need more time to discuss," Lew said Thursday. "From the government's perspective, we have to make sure it does not become an avenue to funding illegal activity or to funding activities that have malign purposes like terrorist activities. You know, it is an anonymous form of transaction, and it offers places for people to hide."
Dimon speculated that bitcoin will soon become popular enough that the government will intervene, which could spell out the cryptocurrency's demise.
"They will eventually be made as a payment system to follow the same standards as the other payment systems and that will probably be the end of them," he said.
You can share this story on social media: