Cool fundings: Jamaican bobsled team raises $30,000 in dogecoin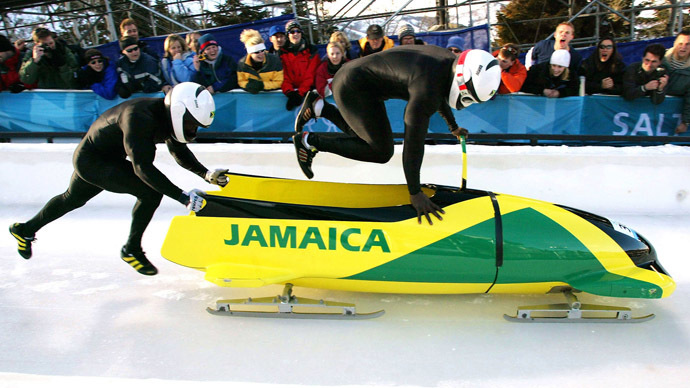 A fundraising campaign has raised more than 26,000 dogecoins, a crypto-currency which could allow the cash-strapped Jamaican bobsleigh team to make the distance to the 2014 Sochi Olympic Games.
The campaign kicked off following news on Sunday that Team Jamaica had qualified for the Winter Olympics for the first time since 2002. The two-man bobsled team, led by Winston Watt, 46, a Jamaican-American who also competed in 2002, with Marvin Dixon onboard as the brakeman.

However, Watt divulged that even after spending his own cash to transport the team to training sessions there weren't enough funds for the team and equipment to make the journey to Russia. Thus, he placed his Olympic dreams in the hands of donors, opening a PayPal account to pay for the estimated $40,000 cost.

The Jamaican bobsled team achieved international fame after qualifying for the 1988 Winter Games, despite having little experience in the sport. Their story provided the fictionalized material for the 1993 film Cool Runnings, which remains a cult classic.

Dogecoin is a crypto-currency, based on a combination of bitcoin, the popular digital money, which uses the Shiba Inu Doge meme. It has attracted millions of internet fans with its comical broken English phrases.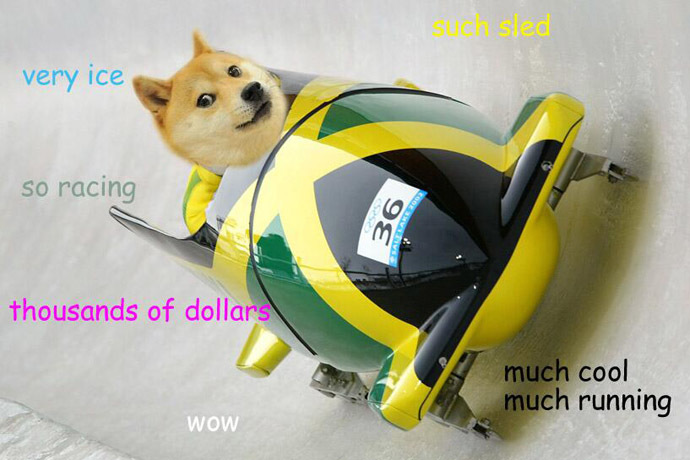 Liam Butler, who heads dogecoin, together with the currency's founders Jackson Palmer and Billy Markus, proved to be a valuable fan of the Jamaican bobsleigh team.

"As someone who grew up in the '90s, Cool Runnings was the ultimate feel-good movie about underdogs out of their element achieving their dreams," Butler told the Guardian. "When I was about seven years old, my best friend and I had a billy-cart that his dad built. When we would start our run down his driveway, we would shout out the catchphrase from the movie: 'Feel the rhythm, feel the rhyme, get on up, it's bobsled time!'"

From Sydney, Australia, Butler launched 'Dogesled', with the goal of attracting enough funds to send Watt and Dixon to the Sochi Olympic Games.

"We started without a concrete plan in mind," Butler says. "I sent a few emails out… but that was the extent of it."

Almost immediately, however, the fundraising campaign had attracted just over 26,000 dogecoins.

The drive has been so successful, in fact, that the trade has helped to boost the value of the crypto-currency; in just half a day, the dogecoin to bitcoin exchange rate rose by 50 percent.

As funds continue to stream in, it looks like the Jamaican bobsled team may be heading for Sochi.
You can share this story on social media: