White House presses for strike against Syria despite possible surrender of chemical weapons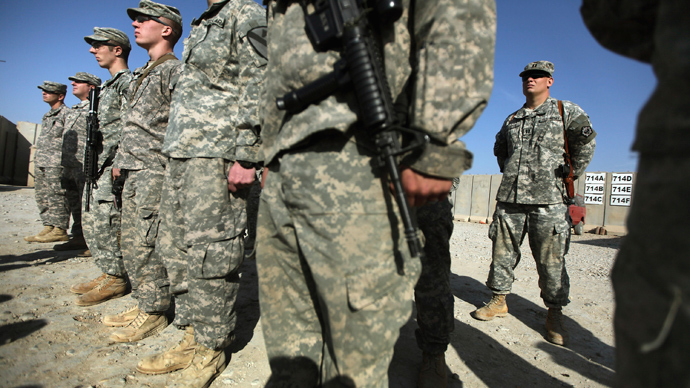 The White House remains adamant about having Congress authorize the use of military force against the Syrian government, even as the country's leader is reportedly weighing a deal that would involve relinquishing a stockpile of chemical weapons.
Follow RT's LIVE UPDATES for the latest on Syria

Notwithstanding reports that Russia has asked Syria to surrender an arsenal of chemical warheads to avoid a likely military strike from the United States, White House press secretary Jay Carney said Monday that lawmakers in Washington should continue to consider President Barack Obama's request to launch an attack against the regime of Syria's Bashar Assad.
Speaking during a White House press conference Monday afternoon, Carney told reporters that he hopes the members of the House of Representatives and Senate will agree to authorize a strike against Assad in retaliation for the August 21 gassing of civilians outside of Damascus. American officials say Assad and his forces are responsible for the attack and should be reprimanded for killing more than 1,400 Syrians.
Carney's remarks came only hours after officials in both Russia and Syria said they were working towards relinquishing that stockpile of weapons. Despite a potential negotiation, however, Carney urged lawmakers to move quickly towards approving an attack.
Earlier Monday, Russian Foreign Minister Sergey Lavrov said he was asking Syrian authorities to surrender their chemical weapons to international control to be destroyed. His Syrian counterpart, Walid al-Muallem, responded shortly after by saying his government "welcomes Russia's initiative."
"We will work with the Russians and speak to them," Carney said later that day, adding, "We would have some skepticism about the Assad regime's credibility."
Those remarks mirrored statements made earlier in the day by State Department spokeswoman Marie Harf, who said that "Clearly we have some serious skepticism" about reports involving Assad's cooperation.
John Kerry meanwhile told Lavrov that his comments about Syria turning over its chemical weapons within a week were "rhetorical" and not meant to be a proposal, a senior US official told Reuters on Monday.

Even if Assad agrees to surrender those weapons, the White House is weary that his regime will in fact relinquish all their warheads.
"Assad has refused to even acknowledge that he possesses chemical weapons, which of course the whole world knows he does. The whole world knows he's using them," Carney said.
"We have to be mindful of the failure of the Assad regime for so long now, 20 years, to sign the Chemical Weapons Convention," he added, referencing the international prohibition against that category of warheads. "This is not a history of promises being kept."
Should Syria agree to the details presented by Russia, Lavrov said that Assad would be required to join the Chemical Weapons Convention. But Carney said that Congress should not wait to see what outcome emerges from any talks between Syria and Russia, but rather authorize a strike as quickly as possible.
"So while we have these conversations...we will continue with our efforts in Congress,"Carney said.

Later in the briefing, Carney said that any sort of deal being brokered between Syria and Russia would occur only as a result of a potentially impending attack from US forces.
"We need to make clear to Assad as well as the Russians and others that we are very serious about the need to response," he said. "We must continue to keep the pressure on the Assad regime with the threat of US military action because it is precisely that threat that has even led to this kind of proposal."
"If Assad believes that there is no threat of retaliation for his use of chemical weapons, it's hard to imagine he will suddenly volunteer to give them up," he concluded.
Following Carney's remarks, former secretary of state Hillary Clinton said that cooperation on Assad's part would be an "important step." Sen. Dianne Feinstein (D-California), chairperson of the Senate Intelligence Committee, said she would "welcome such a move" from Assad's army.
You can share this story on social media: