California moves to 'bottle sunlight'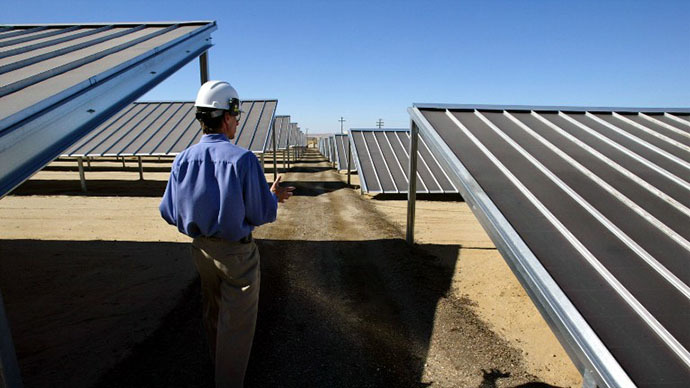 California is making plans to store solar and wind power in order to incorporate renewable energy into its electricity grid. By "bottling" sunlight, the state hopes to have reliable solar energy at its disposal even during the dark, winter months.
"We can't just rely on the sunlight. We've got to bottle the sunlight," California Governor Jerry Brown said last month in a speech held at a conference in San Francisco.
The state is pushing for large-scale energy storage that would prevent utility companies from being forced to build additional power plants of transmission to meet its peak demand, Reuters reports. 
The Golden State is trying to make renewable energy one-third of its total electricity supply by 2020. The target goal requires the state to store up to 1.3 gigawatts, which is enough for plants to power more than a million US homes. 
On average, California's grid storage uses about 17 gigawatts of power in the winter, and up to 51 gigawatts during the summer, when use of air conditioners spikes. Since power from sun and wind can be unpredictable, storing renewable energy would allow the state to build a supply that would last through irregular conditions that might affect electricity use.
Steven Minnihan, a Lux Research Analyst, told Reuters that the proposal would have a major impact on the grid storage market, bringing the value of renewable energy installations from $200 million in 2012 to $10.4 billion in 2017.
Some venture capitalists, expecting California to become a pioneer in energy storage, have already invested in storage startups. Microsoft Corp founder Bill Gates, venture capitalists Peter Thiel and Vinod Khosla, and companies like General Electric Co and LG Chem have invested in the Golden State's energy storage initiatives. In the past five years, venture capitalists have spent $2.2 billion on storage.
"Grid scale storage has always been one of the areas that we knew and know will happen. It's a matter of timing," Andrew Chung, a partner with Khosla Ventures, told Reuters.
"These are capitalists. They are not doing this as a science experiment," SunPower Corp Chief Executive Tom Werner said at a meeting with utility executives in San Francisco.
California's major setback regarding renewable energy storage is the lack of federal funding backing the projects. Many of the state's current storage projects were paid for with stimulus funds that have been used up, thereby burdening taxpayers with the cost of launching additional projects. Farzad Ghazzagh, an analyst for the Division of Ratepayer Advocates, estimates that installing enough storage to meet California's 2020 goals would cost $1 billion to $3 billion.
"We all agree, as we sit here today, storage is uneconomic," Werner said. "But if you go out five years, I wouldn't bet against it."