Boy Scouts publish evidence detailing decades of child abuse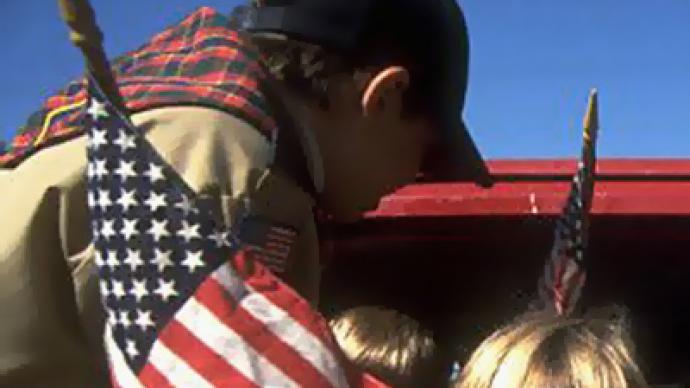 Previously confidential documents pertaining to 20 years of accusations and evidence of pedophilia and other sex crimes within the ranks of the Boy Scouts of America have been published online, opening up nearly 20,000 pages of reports to the public.
Portland attorney Kelly Clark released the documents on his personal website Thursday afternoon after a two-year-long court battle that had eventually ended up before the Oregon State Supreme Court wrapped up . Clark's filings include 1,247 reports detailing persons added to an "ineligible volunteer" list reserved for individuals alleged or admitted to have engaged in sexual misconduct with boys between 1965 and 1985. The high-court of Oregon agreed to let the attorney proceed with publishing the files following a 2010 legal battle against the Boy Scouts where an adult scoutmaster was tried for sexually abusing a boy. Along with a $18.5 million judgment, the Scouts were forced to let the files be published online after the names of witnesses and victims were redacted from the originals.A similar court battle is currently underway in Texas, where a victory for prosecutors there could lend to Boy Scout files created between 1985 and 2010 to be published as well."The stories in those files are real little boys and real stories of abuse," Clark says in a statement this week. "And when the public sees these stories in black and white, I think the level of understanding and frustration about sexual abuse in Scouting is going to be significantly elevated."Wayne Perry, president of Boy Scouts of America, says that while he applauds his organization's handling of similar allegations today, in the past the group responded in a manner he describes as "plainly insufficient, inappropriate or wrong.""Where those involved in Scouting failed to protect, or worse, inflicted harm on children, we extend our deepest and sincere apologies to victims and their families," Perry says in a statement issued Wednesday evening. "While it is difficult to understand or explain individuals' actions from many decades ago, today Scouting is a leader among youth-serving organizations in preventing child abuse."For anyone willing to examine for themselves how those individuals ended up barred from one of America's most beloved institutions, Clark has created a database on his website that allows users to search by name, troop and date of accusation to scour the thousands upon thousands of pages of redacted documents. Journalist Patrick Boyle attempted to uncover the sordid underbelly of the organization in his 1994 book Scout's Honor, and to the Seattle Times he celebrates Clark's victory by comparing it how to how hard access was to these documents only years earlier."Years ago, you had to go to an attorney's office or you had to come to my house — and I mean that, because people did it — and look through the files and copy them," Boyle says. "Now you can go online. … I think a lot of victims are going to go back and punch in a name and find out if the guy who abused them was caught."And while Clark's database may not explain how, exactly, those incidents were handled in every example, it does offer at least a little bit of insight into how the administration of the organization attempted — to a degree — to remediate problem-makers by making sure they weren't readmitted to the group.According to Boyle, the Scouts "didn't know what to do" during earlier instances in decades past where scoutmasters and other adults associated with the group were linked to sexual misconduct with boys. "They held their nose, closed their eyes and made these guys go away — sometimes reporting to police, sometimes not, sometimes telling the parents, sometimes not."Tim Hale, a California attorney who represents former scouts abused during their tenure in the group, tells CNN that while the release may shine a light onto misconduct within the agency, it also makes aware how easily pedophiles and other criminals were cast away from troops, but not necessarily to the cops."We're talking about hundreds, if not thousands, of unidentified men who should be registered sex offenders who are roaming free in society, free to volunteer with other youth organizations, to work at schools and that sort of thing," Hale says.Janet Warren, a University of Virginia psychiatry professor, adds that while "a small number of files where an alleged offender was allowed back into Scouting after offending" were " extraordinarily rare," the agency often succeeded in sending criminals out of the group."The files show a significant amount of public knowledge of the offenders and their unlawful acts. For example, over 60% of the files being made available to the public include some kind of public information. These public domain sources included newspaper articles, police reports, criminal justice records, and records of civil litigation. The majority of men in the files were arrested at some point in their lives for a sex crime," Warren writes in a statement released by the Boy Scouts last month.The files are also "very limited in their ability to answer important research questions about sexual abuse," Warren adds. "While some have attempted to categorize these files as a 'treasure trove' of information about pedophiles and their actions, that simply is not the case." Instead, she insists, "These files tell us precisely what researchers already knew, and have known for many years: some small number of men will use a position of trust and access to young people to pursue illegal sexual gratification. This is a sad reality that has been with us throughout human history."Clark calls those men something else though. Specifically, he says the individuals listed on the ineligible list "are sociopathic geniuses" that "fool everybody.""And then they are able to coerce, convince or threaten these kids to stay silent. And you see that play out over and over again in the files," Clark said in court this week.
You can share this story on social media: