Cougar teacher wanted in Texas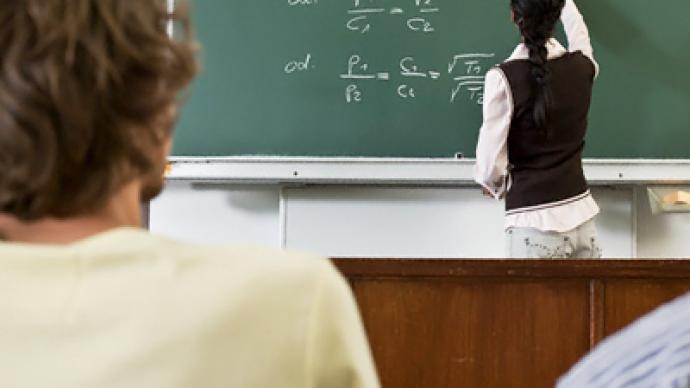 After-school detention in Houston, Texas has moved out of the classroom and into the backseat of the teacher's car. At least that's the case with a 35-year-old former teacher now on the run.
Anne Lynn Montgomery is wanted on charges of sexual assault. Authorities are searching for the woman that's on the run after a former student of hers has revealed that they began an intimate relationship when he was only 15—in the back of Montgomery's car. The student, Bradman Moore, has since fathered two of his former instructor's children. He says the couple began sleeping together in 2006 while he was a freshman at Sharpstown High School."From there on," says Moore, "I fell in love with her."The couple met when Montgomery became the instructor involved in the high school's marching band, where apparently Moore was banging more than just a drum.The relationship fell on hard times, however, after Moore, now 20, discovered that his former teacher was sleeping with five other pupils. Moore claims that Montgomery came clean with her other escapades shortly before their second daughter was born in 2009. A criminal investigation has been underway for the last month, and with police now having issued a warrant for Montgomery's arrest, authorities are unable to locate the woman. She most recently worked as a color guard instructor at Ridgepoint High School but lost her job there after police arrived to question her. Sometime after their relationship began, both Moore and Montgomery transferred to Bellaire High School. The couple moved in together in May of 2008. Moore was 16 that year when he fathered their first child.In addition to being charged with sexual assault of a child under the age of 17, Montgomery is also wanted for having an improper relationship between a student and an educator—if convicted, she faces 20 years in prison.Before warrants for these crimes were issued, Montgomery and Moore were in a Texas courtroom this week after the ex-instructor made claims that Moore raped and abused her. The former pupil denied all allegations.
You can share this story on social media: