IMF head denied bail by US court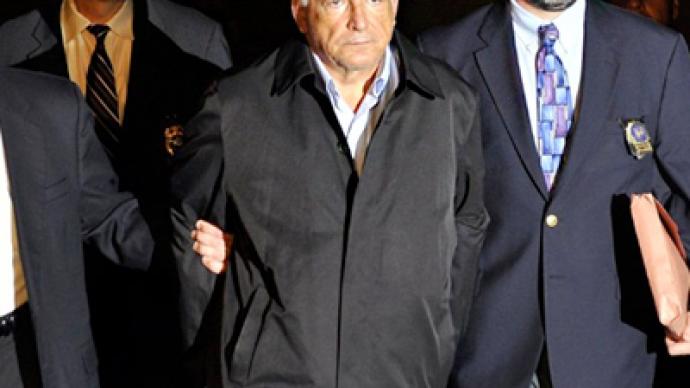 IMF chief Dominique Strauss-Kahn, who is facing up to 20 years in prison for the alleged attempted rape of a hotel maid, has been denied bail. Prosecutors say they are investigating whether he may have engaged in similar conduct before.
During pre-trial hearings on Monday, defense lawyers requested that Strauss-Kahn be released on $1 million bail. But a New York court ruled that the economist should be remanded in custody until at least May 20, the date for the next hearing, due to concerns he might flee to France if released. Strauss-Kahn's lawyers said he would plead not guilty to charges of a criminal sexual act, attempted rape and unlawful imprisonment that could bring a humiliating end to his public career and political ambitions – Strauss-Kahn has been regarded as the Socialist's early favorite in the 2012 French presidential race.His lawyers stated their client did not flee the hotel, and that the person he was having lunch with on Saturday, the day of the incident, will testify on his behalf.Strauss-Kahn was arrested on Saturday by police just minutes before leaving the US. He is suspected of a sexual attack, attempted rape and unlawful imprisonment of a 32-year-old maid at the Sofitel hotel in New York's Times Square. If found guilty, he could be sentenced to up to 20 years behind bars.On Sunday, the alleged victim positively identified Strauss-Kahn in a police lineup. She was also examined at a hospital and found to have minor injuries. Earlier, the maid reported to the police that the 62-year-old director of the IMF, who was allegedly naked after taking a bath, rushed at her and tried to lock her in his room. The hearing was initially scheduled for Sunday, but was delayed to give police more time to work with the DNA evidence provided by the accused. The suspect is planning to plead not guilty, according to the defense team.Before this week's incident, Strauss-Kahn had already had his name marred by sex scandals. In 2007, Tristane Banon, a French journalist and writer who is now 31, accused him of attempting to rape her in 2002, but she did not press charges. After the new scandal, she may change her mind and request an investigation, the AFP news agency reported, citing her lawyer. In 2008, Strauss-Kahn was accused of having an affair with a subordinate, Piroska Nagy, whom he later helped to get a new job. As a result of the scandal, Strauss-Kahn was forced to issue a public apology.Strauss-Kahn, a former French finance minister, was considered a possible candidate for the presidency in next year's election. After the news of the alleged sex crime broke, even his political allies expressed pessimism over his future."The most likely outcome is that this case will stick, and even if he pleads not guilty, which he may be, he won't be able to be a candidate for the Socialist primary for the presidency, and he won't be able to stay at the IMF," prominent Socialist Jacques Attali was quoted as saying by Reuters.Sovereign risk analyst Jan Randolph shed more light on the ramifications of the story for RT."Dominique Strauss-Kahn has brought a lot of personal capital to the financial rescue measures," Randolph said. "He was overseeing the crisis from the start, he used his personal stature, his intellect, his connections in dealing with, for example, encouraging the Greek prime minister to stick on the reform road. And so that personal capital is now lost, and it will be very difficult to replace."
Meanwhile, the IMF delayed a planned informal gathering to discuss the situation until after the court hearings. Strauss-Kahn's top deputy, John Lipsky, is currently performing his boss' duties as the head of the fund.
You can share this story on social media: