Black students arrested while waiting for school bus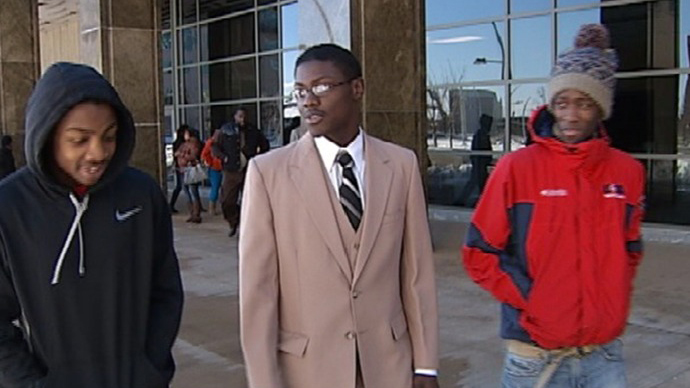 Three African-American high school students claim they were arrested on Wednesday, November 27 while simply waiting for a bus in Rochester, New York, but police say the teenagers were obstructing pedestrian traffic.
The students – Raliek Redd, 16, Wan'Tauhjs Weathers 17, and Daequon Carelock, 16 – have all been charged with disorderly conduct for failing to "disperse" when police ordered them to. The teenagers reportedly tried to explain they were waiting for a bus to take them to a basketball game, but were arrested when they declined to leave the area.
"We tried to tell them that we were waiting for the bus," said Weathers to local WHEC News. "We weren't catching a city bus, we were catching a yellow bus. He didn't care. He arrested us anyways."
Although there was no school that day, the students' basketball coach had arranged for a bus to pick them up en route to a game. The students were waiting for the vehicle with about a dozen teammates when an officer ordered them to leave. There were no reports of obscene language, aggressive behavior, or misconduct on the parts of the students.

According to police, officers had been monitoring that particular area since local businesses previously complained about loitering and fights breaking out outside. A police report obtained by WROC News stated the Edison Tech students were blocking "pedestrian traffic while standing on a public sidewalk...preventing free passage of citizens walking by and attempting to enter and exit a store."
The report also said the arresting officer gave"clear and concise orders for the group to disperse and leave the area without compliance."
The students' basketball coach, Jacob Scott, arrived at the scene as officers placed handcuffs on the students. He asked police to let the kids go and defended their actions, but said he was ultimately threatened with arrest, too.
"[The officer] goes on to say, 'If you don't disperse, you're going to get booked as well,'" Scott said to WROC."I said, 'Sir, I'm the adult. I'm their varsity basketball coach. How can you book me? What am I doing wrong? Matter of fact, what are these guys doing wrong?'"
Scott clearly disputed the allegation that his students were guilty of a crime, saying the whole situation is "a catastrophe."
"These young men were doing nothing wrong, nothing wrong," he said. "They did exactly what they were supposed to do and still they get arrested. I'm speaking to the officers with dignity...and still and yet - they see me get treated like nothing."
Mary Adams, a Rochester school board member, has also spoken out in support of the student athletes, saying an investigation by the district attorney's office is in order and that police should drop the charges"immediately."
A trial is currently scheduled for December 11.