Nightmare commute: San Francisco public transportation goes on strike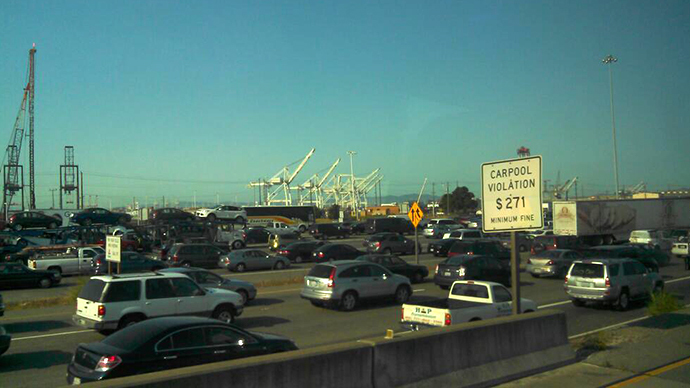 San Francisco's public transportation came to a stop on Monday as Bay Area Rapid Transit (BART) unions went on strike, affecting about 400,000 commuters and marking the first halt of the train service in 16 years.
With no trains in service to take them to work, Monday morning commuters had to find alternate ways to travel. Roads quickly became congested and highways and bridges were clogged. Transportation officials estimate that an additional 60,000 vehicles are on the road because of the strike, AP reports.
The walkout came after union leaders and management failed to produce a new contract by midnight on Sunday. BART unions represent about 2,400 train operations, station agents, maintenance workers and staff, who average about $71,000 in base salary and $10,000 in yearly overtime pay.
Representatives for the Almalgamated Transit Union (ATU) Local 1555 and Service Employees International Union (SEIU) Local 1021 demanded that BART propose a new contract before their current ones expired on Sunday. The unions were asking for a 5 percent annual pay raise over the next three years.
"If there are no new proposals by midnight, then workers will walk off the job as soon as the trains are safely put to bed," Josie Mooney, an SEIU negotiator, told AP.
"A strike is always the last resort and we have done everything in our power to avoid it," Mooney said in a statement. "Unfortunately, BART seems intent on forcing a strike. We are disappointed that BART's failure to bargain honestly and fairly means that hundreds of thousands of Bar Area commuters have to suffer."
First picket line of #BARTstrike at Lake Merritt station. pic.twitter.com/VKGE1G6kUO

— Chris Filippi (@chrisfilippi) July 1, 2013
BART spokesman Rick Rice told AP that the transportation agency had initially offered a 4 percent pay raise over four years, and then raised that offer to 8 percent. The proposal would have been in addition to a 1 percent raise that employees were already scheduled to receive Monday. The transit agency also claims it offered to reduce the contributions employees were required to make to their pensions, and lower the costs of health insurance premiums. But ATU Local President Antonnete Bryanton Sunday told reporters at a midnight news conference that BART's latest proposal is not an actual pay increase, but rather "surface bargaining".
"Our members aren't interested in disrupting the Bay Area, but management has put us in a position where we have no choice," Bryant said.
Local SEIU union President Roxanne Sanchez said that workers are fed up, and not willing to compromise their ideals.
"Years of layoffs have affected public safety and services," she said in a statement. "Crippling cuts have not just made our jobs more difficult, but put undue strain on our livelihoods, our families and our communities."
Check out the backup at the Bay Bridge because of the #BARTStrike this morning. pic.twitter.com/SXmeFGAxsC

— NBC Bay Area (@nbcbayarea) July 1, 2013
On Sunday, BART posted notices at its stations and online, warning commuters that a strike may begin the following day. Other transit agencies were already expecting the walkout, and on Friday urged Bay area residents that they should consider carpooling, taking buses or ferries, leaving earlier to drive to work, or to work from home if they can.
"The public doesn't deserve to be punished," Rice said in a statement posted on the BART website. "We are sorry they have decided to strike despite the fact we are willing to negotiate."
While union and management leaders continue to negotiate, Bay area commuters are struggling to get to work. Richard Graham, a 43-year-old hotel banquet manager who usually takes the BART to work, told Fox News that he might be facing a three-hour drive to reach the hotel on Monday.
Embarcadero Station. Monday morning commute. What a difference a day makes. pic.twitter.com/Wc1QsRCTMS

— Karl Mondon (@karlmondon) July 1, 2013

"I can't stop thinking about it," he said on Sunday, dreading his drive from Pleasant Hill to downtown San Francisco. "It would take me 2 ½ to 3 hours if I drive in to work. Then I've got to find parking, and that might cost me another 40 bucks, if there are any spots left."
The last BART strike occurred in 1997, causing a system-wide shutdown and resulting in a four-year contract that offered a 7 percent raise. It is unclear how long the country's fifth-largest rail system will be out of service this year, but the last strike left commuters without a train system for six days, and a 1976 strike kept the system shut down for two weeks.
Mooney warns that if BART does not step up its offers, it could be a long time before the trains start running again.
"If BART continues to do 'surface bargaining,' then we will not come to an agreement," she said.