Cop fired for role in Oscar Grant killing charged with fraud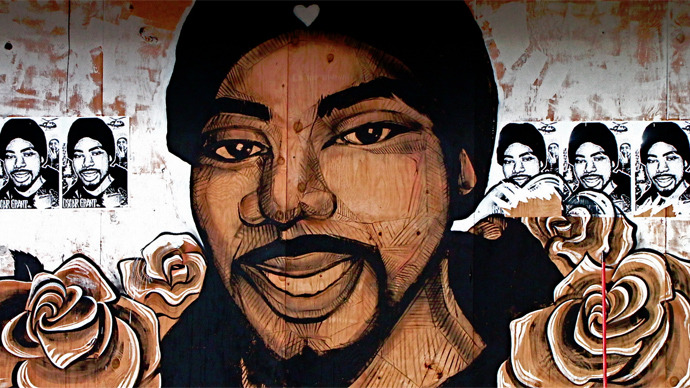 A former transit cop fired following the shooting dead of an unarmed black passenger four years ago in Oakland, California has been charged with unemployment fraud.
Anthony Pirone was relieved of his job with the Bay Area Rapid Transit (BART) Police Department in June 2010 for his role in the death of Oscar Grant III on New Year's Day 2009. He enlisted with the US Army in May 2011, but authorities say he collected and cashed unemployment checks for around seven months after his full time employment began.
Pirone is currently serving a tour in Afghanistan and is not scheduled to return to the US until 2014. When he does, however, he will have to fight accusations of unemployment fraud that were recently filed, the Oakland Tribune reported Friday.
On the morning of January 1, 2009, Pirone responded to reports of a fight on a BART train in Oakland. He was the first officer to arrive on the scene and was later accused of escalating an altercation between passengers on an adjacent transit platform that pinnacled with fellow BART cop Johannes Mehserle killing Grant, one of the passengers suspected of brawling onboard the train.
During the subsequent murder trial, it was revealed that Pirone apprehended Grant and others suspected of fighting and then ordered them to stand against a wall while he awaited assistance. When Mehserle arrived, Pirone instructed him to place Grant under arrest. According to witness testimonies, Grant resisted attempts to be brought into custody and was eventually wrestled to the floor. Grant was face down on the subway platform being detained by BART officers when Mehserle, apparently mistaking his pistol for his non-lethal Taser, fired a shot and killed him.
Pirone testified that he punched Grant in the face while trying to apprehend him and admitted to using a racial epithet during the ordeal.
"Why are you fucking with me? You aren't even real cops," he said Grant barked at him. Pirone testified in court that Grant called him a "bitch ass nigger," prompting the officer — who is white — to respond with identical language. He then kneeled on Grants neck and attempted to restrain him seconds before the fatal shot was fired by Mehserle.
"Of course he instigated it, he carried an attitude and he pumped up the other officers up in the way he was acting," Grant's uncle Cephus Johnson later told Los Angeles' KGO News of Pirone.
Mehserle resigned just days after Grant's death, but Pirone's termination didn't come until April of the following year, despite pleas from community members and activists to remove him from the force. When Pirone was relieved of his job, Grant family attorney John Burris told the San Francisco Gate, "It's about time."
"But for Pirone's misconduct, Oscar Grant would not be dead," Burris said. "When you combine all of the facts, what you have is an out-of-control officer who escalated the event into a situation where a young man was killed."
One month later Mehserle pleaded not guilty to charges of second-degree murder and voluntary manslaughter, and was subsequently convicted of involuntary manslaughter by a jury. He served only 11 months, and less than a year after his release he unsuccessfully requested he be readmitted to the force.
Pirone distanced himself from the case after losing his job in April 2011 and relocated to North Carolina to join the Army two years ago this month. Once he returns from deployment, however, legal woes will likely once again return.
According to the Tribune, Pirone cashed unemployment checks from May 2011 through December of that year, even though he had already enlisted and begun work at Fort Bragg Army Base nearly 3,000 miles from the nearest BART train.
No details have been released yet as to when Pirone was deployed to his current tour in Afghanistan, but investigators tell the Tribune that he lied at least 10 times on sworn affidavits that he was unemployed while actually earning a paycheck from Uncle Sam.
The Tribune has not learned the amount that Pirone is accused of stealing, but prior to his termination from the BART Police Department he was earning a reported $100,000 annual salary. Before joining the force, he spent more than a decade as military officer with the Marine Corps.
Charges against Pirone were filed on April 15, although information was not publicized until this Friday.
You can share this story on social media: