Aurora theater lacked security on night of Batman shootings
Published time: 29 Jul, 2012 22:18
Edited time: 30 Jul, 2012 02:18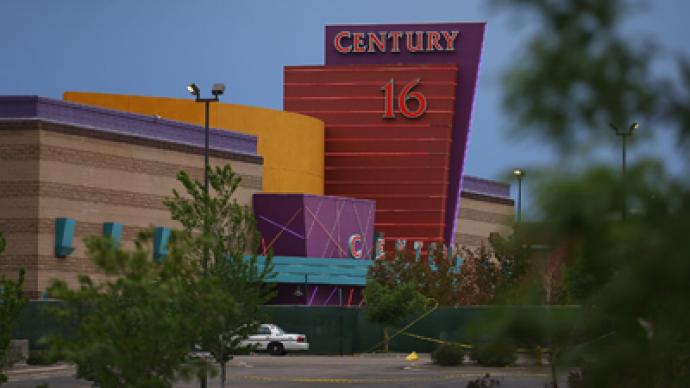 The Colorado movie theater at which 12 people were killed and 58 wounded by a gunman this month did not have any uniformed security guards on duty the night of the July 20 shootings, even though other US theaters had additional protection that night.
Guards hired by movie theater complexes generally spend their time roaming the complex, checking bags and dealing with disputes, the Associated Press reports. While it is impossible to know whether guards would have found the weapons brought into the Aurora theater by James Holmes, they would have had the authority to check his bags and possibly prevent a tragedy.
Holmes entered the theater with an AR-15 assault rifle, a shotgun, and two .40 caliber Glock handguns.
Cinemark normally hire off-duty police guards to work at the Aurora theater on busy Friday and Saturday nights – except on the opening night of "The Dark Knight Rises," during which the shootings occurred.
The theater complex also hired security on other nights on a case-by-case basis, depending on how much trouble was likely to occur.
"If you bring in security on Friday or Saturday, you sure as hell want to bring it in for this particular function," said Larry Lowak, whose son was wounded by a gunshot on the night.
Cinemark, which owns and operates the Century 16 Aurora theater, declined AP's request to explain why no guards were on duty the night of the shootings.
Some theaters, including Beaumont, had armed security guards during the first few days of the Batman showings.
A Cinemark theater in Pennsylvania provided two off-duty police officers on July 19 in anticipation of a crowded midnight showing.
"If they're expecting large crowds, they call our department for additional police presence," said Police Officer James Giehl.
Two large movie theaters in Texas also made sure they had additional security during the busy opening night.
"When they're there, they're visible, people see them and people come in and say 'hey man, we're glad you're here,'" Amarillo Police Cpl. Jerry Neufeld said. "It gives people a sense of calm."
If a crowded opening night wasn't enough of a reason to provide guards, then a recent warning by the US Department of Homeland Security should have been taken into consideration.
The DHS sent out a nationwide warning to police and other emergency personnel that theaters were potentially attractive targets for terrorists.
"Terrorists may seek to emulate overseas attacks on theaters here in the United States because they have the potential to inflict mass casualties and cause local economic damage," the May 17 DHS report read.
While Holmes has not been charged with terrorism, if the Cinemark 16 theater had been concerned about the threat and provided extra security, there's a chance that he may have been stopped.