Red-haired Joker: Colorado shooter James Holmes' first court appearance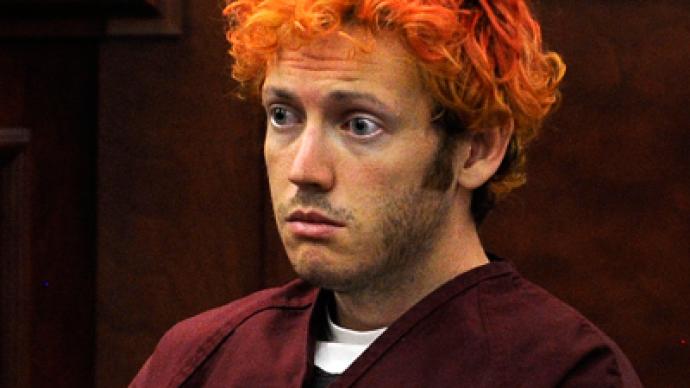 The man accused of killing 12 people in a movie theater in Aurora could face the death penalty, a Colorado prosecutor says.
James Holmes, 24, made his first court appearance Monday morning in a Colorado courtroom. Police and prosecutors accuse him of killing 12 audience members and injuring 58 in a shooting rampage during the premiere of the latest Batman film, "The Dark Knight Rises," in Aurora, CO Friday morning. Police say Holmes has refused to cooperate with investigators. Monday morning he appeared before a judge with his attorney and was caught on film in public for the first time since the atrocities occurred three days earlier. Holmes sat quietly in prison garb before the judge and remained silent during a brief hearing. The court concluded with the decision that Holmes will be formally charged one week later on July 30. He is expected to remain locked up at the Arapahoe Detention Center until his next court date.During his short court appearance, Holmes showcased a dyed red hairdo, an allusion some have suggested to the Joker character from the Batman series. According to authorities, Holmes told the police that he was the Joker once detained after the Friday morning massacre.Sources within the facility tell the New York Daily News that Holmes has not shown any remorse since being booked last week and "thinks he's acting in a movie.""He was spitting at the door and spitting at the guards," a just-released inmate added to the Post. "He's spitting at everything. Dude was acting crazy."During Monday's appearance, Holmes also appeared noticeably drowsy, perhaps even sedated, as he sat quietly in the courtroom. It has been suggested that attorneys for Holmes may use an insanity plea in order to spare their client from a capital punishment sentence if convicted for the theatre shooting crimes.]Following Monday's appearance, District Attorney Carol Chambers told reporters that Holmes is not expected to be targeted with domestic terrorism charges. The DA also added that prosecutors are seeking input from victims of the Aurora shooting to make a decision on whether or not they should request the death penalty for Mr. Holmes. According to the DA, this decision will impact the lives of those involved in the case for years to come.On Saturday, police scoured Holmes' apartment and found a number of Batman-related items, including a mask and a poster. They also found ammunition and removed booby traps. Investigators believe that opening the door would have set off an explosive device, possibly leading to more casualties in the residential complex.Holmes would face mandatory life in prison if the district attorney decides not to seek the death penalty.
Denied entry into gun club for 'freakish' message
Evidence has come light that James Holmes was refused membership to a Colorado gun club for a voicemail message in which he assumed the persona of the Joker.Holmes applied to join the Lead Valley Range last month and was required to attend an obligatory orientation session. Club owner Glenn Rotkovich rang Holmes several times to invite him to the session and was greeted with a voicemail message that he described as "bizarre – guttural, freakish at best.""Looking back, and if I'd seen the movies, maybe I'd say it was like the Joker," said Rotkovich.Following his call, Rotkovich warned his staff to be wary of Holmes and refuse him entry to the club if he turned up at the orientation session on July 1.
You can share this story on social media: