6-year-old girl youngest victim of 'Batman' massacre in Colorado
Published time: 21 Jul, 2012 16:58
Edited time: 22 Jul, 2012 07:34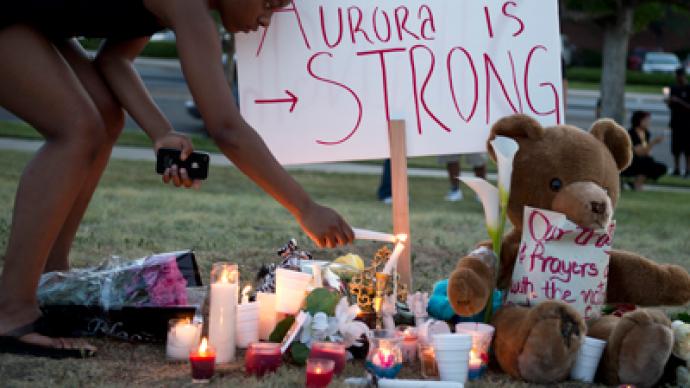 Relatives have confirmed 6-year-old Veronica Moser was killed during the premiere of the latest Batman saga, 'The Dark Knight Rises', in Colorado. Her 25-year-old mother remains in hospital in critical condition.
­Ten people were killed during the attack in the theater, and two more succumbed to their injuries at the hospital. Police have released the identities of all twelve victims of the massacre:
Veronica Moser, 6
Jessica Ghawi, 24
Matt McQuinn, 27
Alex Sullivan, 27
Micayla Medek, 23

John Larimer, 27
Jesse Childress, 29
Gordon W. Cowden, 51
Jonathan T. Blunk, 26
Rebecca Ann Wingo, 32
Alexander C. Teves, 24
Alexander J. Boik, 18
Meanwhile, details about some of the victims are slowly emerging.

In a tragic twist of fate, one of the victims of this rampage was aspiring sportscaster Jessica Ghawi – who survived the Eaton Centre shooting in Toronto just one month ago. In a moving blog post she wrote a few weeks ago, Jessica spoke about that day, saying she "saw the terror on bystanders' faces."

"I saw the victims of a senseless crime. I saw lives change. I was reminded that we don't know when or where our time on Earth will end. When or where we will breathe our last breath," the journalist wrote.

Her brother Jordan confirmed her death to reporters as he was catching a flight from her native San Antonio, Texas to Denver.

He took to Twitter to say "This could easily be the worst night of my life. It appears that my sister has been fatally wounded in a mass shooting at a movie premiere in Denver, CO."
Jessica was attending the premiere with a friend, Brent Lowak, who was reportedly shot at least one time and was taken to a nearby hospital.

Another victim, A. J Boik, who graduated from the local high school just weeks ago, was attending the premiere of the 'Dark Knight Rises' with his girlfriend, Lasamoa Cross, who he planned to marry. She survived; he did not.
And on Saturday morning, parents of sailor John Larimer said Navy officials notified them that their 27-year-old son was one of the 12 killed.
The family said that Larimer's brother is working with the Navy to take his body home to Crystal Lake, Ill. He was with a unit that belongs to U.S. Fleet Cyber Command/U.S. Tenth Fleet at Buckley Air Force.
Matt McQuinn, 27, was killed after heroically diving in front of his girlfriend and her older brother to shield them from the gunfire.
And Alex Sullivan had planned to ring in his 27th birthday with friends at a special midnight showing of "The Dark Knight Rises" and then celebrate his first wedding anniversary on Sunday.
Late Friday, Sullivan's family confirmed that police told them he was among those killed.
Micayla Medek, 23, was working in a sandwich shop while deciding what to do after college. Her family waited an agonising 19 hours before it was confirmed she was among the dead.

­An Air Force reservist, Sgt. Jesse Childress, worked at Buckley as a cyber-systems operator. "He was always our star," Capt. Andrew Williams said, describing Childress as a knowledgeable, experienced and respectful man who always took part in kickball and volleyball tournaments on the base.
Gordon Cowden, 51, was the oldest victim of the killing spree. He was a resident of Aurora.
Jonathan Blunk, 26, served in the Navy between 2004 and 2009, and according to a close friend, most recently worked at a hardware store.
Rebecca Ann Wingo, 32, was working as a customer relations representative at a mobile medical imaging company. A colleague said she was friendly with everyone and always seemed to be in a good mood.
Alexander Teves, 24, a native of Phoenix, graduated from the University of Denver in June with a master's in counseling psychology.