'Batman' shooting: Feds identify Denver gunman as 24-year-old James Holmes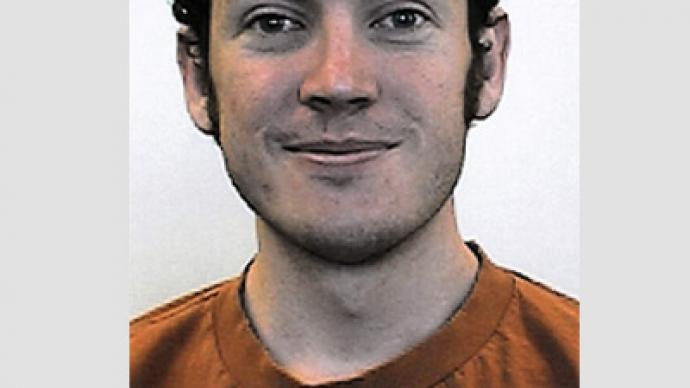 Law enforcement officials have identified the gunman responsible for killing 12 people and injuring 58, many of them children, at the 'Dark Knight Rises' premier in Colorado's third largest city of Aurora, as 24-year-old James Holmes.
Within hours, over 250 law enforcement officers and over 100 FBI agents responded to the tragedy. James Holmes was arrested with a rifle, handgun and gasmask in his possession outside of the theater. Another 2 guns were found inside the building. At the time of his arrest, he told officers he was "the Joker". 24-year-old James Holmes was a student at the University of Colorado School of Medicine in Denver until last month, according to spokeswoman Jacque Montgomery . San Diego media outlets have reported Holmes attended high school at Westview in Carmel Valley. He was also reportedly pursuing a PhD in neuroscience at University of Colorado-Denver. He supposedly enrolled in the fall of 2011, but dropped out in June.Witnesses reported seeing a tall, gun-wielding man clad in body armor and wearing a gas mask in the theatre. Aurora police chief Daniel Oates told reporters that Holmes entered the theatre dressed in tactical clothing, a tactical ballistic vest, a helmet and a gas mask. The police chief added that the gunman had on him an Ar-15, a Remington shotgun and two 40-caliber Glocks. According to Oates, Holmes is believed to have obtained all his ammunition legally."My understanding is all weapons he possessed, he possessed legally. All ammunition he possessed, he possessed legally," Oates said, adding that Holmes had purchased four guns at local gun shops within the past 60 days and bought 6,000 rounds of ammunition.The suspect bought a ticket and entered the theatre with the crowd. After the movie began, he attempted to block the exits to trap the moviegoers inside. Some witnesses said the gunman managed to empty at least two clips.One of the women attending the premiere, 25-year-old Jennifer Seeger, said Holmes was four feet away from her, pointing a gun in her face as she ducked on the ground. She also recounted the terrifying moments when empty casings were showering her, scalding her face, as the gunman emptied his clip, pausing only to reload. "Every few seconds it was just boom, boom, boom,'' Seeger said. "He would reload and shoot and anyone who would try to leave would just get killed.''The young woman also said that as she began crawling toward an exit, she saw a girl about 14 years old "lying lifeless on the stairs."Cell phone video taken by someone at the theater and posted on YouTube showed scores of people screaming and fleeing the building. Some had blood on their clothes.An apartment building where Holmes lives and five buildings around it were evacuated after he told police there were explosives planted inside. This was confirmed by federal agents, who said the device is 'very sophisticated.' According to CBS News, police found the suspect's apartment 'booby-trapped', with lots more ammunition inside. Fire trucks were on site, and some reports suggested law enforcement agents would be entering through a window. FBI spokesman Jason Pack said there's no indication so far of any connection to terror groups. Marine Col. Dave Lapan, a Pentagon spokesman, says that initial indications are that the suspect in the shootings, James Holmes, was not a member of the military.The FBI has also revealed Holmes is a white male who is 6 feet, 3 inches tall and 24 years old. Authorities have found no significant criminal record and no terrorist affiliations. Investigators suspect he acted alone.The attack is the worst mass shooting in Colorado since the Columbine High School massacre of April 20, 1999. Back then, students Eric Harris, 18, and Dylan Klebold, 17, opened fire at the school in the Denver suburb of Littleton, about 15 miles west of Aurora, killing 12 classmates and a teacher and wounding 26 others before killing themselves in the school's library.
You can share this story on social media: