Utoya massacre step-by-step: Breivik 'dehumanized' to survive own terror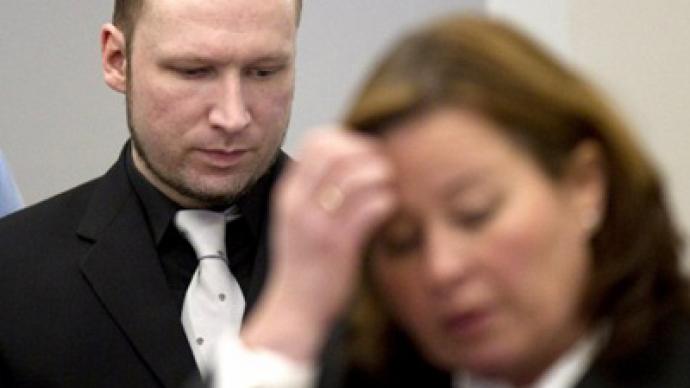 Likening himself to a "banzai" warrior, seeking "satori" to harden his heart, Anders Breivik lauded Al-Qaeda for embracing martyrdom. But the self-confessed mass-killer feared he would "break down mentally" if he faced the horror he had unleashed.
Before describing the graphic details of his murderous rampage that left 69 dead at a youth camp on Utoya Island last July, the 33-year old far-right extremist asked those present in the courtroom if they would like to leave before he began. None of them did so, though they might have wished they had.As Breivik enumerated chronologically one murder after another with a detached air, the judge presiding over the trial was forced to take a break once the weight of emotion had overcome all those present at the proceedings.Breivik himself seemed to have struggled with detaching simulated violence from the real thing as he described hunting down and shooting teenagers at point-blank range."Some of them are completely paralyzed. They cannot run. They stand totally still. This is something they never show on TV … It was very strange,'' he said.When asked if he could feel sadness, he said yes, claiming he had undergone a process of self-dehumanization to prepare himself to kill.On Thursday, Breivik described year-long video game binges during which his dream of mass-murder was slowly nurtured.He also described to psychiatrists how he used meditation to numb the full spectrum of human emotion – "happiness to sorrow, despair, hopelessness, and fear" – and was still using it behind bars.He described his aloof manner of recounting his self-described "gruesome, barbaric acts" as a defense mechanism: "I can choose to remove the mental shield, but I am choosing not to do it … because I would not survive."Chastising "feminized" Norwegian men "for cooking food and showing emotions," he saw himself as akin to a Japanese "banzai" warrior during the Second World War.He had previously described Japan as being an ideal state for its rejection of "multiculturalism and Marxism in the 1970s."When asked why he had wept during the showing of his propaganda video, Breivik admits to being caught off guard."I wasn't prepared for that film,'' he said. "It's a film that represents the fight and everything I love.''For Breivik, the trial is a battle for his sanity. To him, being declared insane would undermine the political lynchpin which he has used to justify his wanton killing spree. So far though, experts have come to opposing conclusions on Breivik's mental state.
Killer's inspiration
In preparation for the attack, Breivik admitted to reading more than 600 bomb-making guides on the Internet. He also paid particular attention to the 1993 World Trade Center bombing in New York and the 1995 Oklahoma City bombing.He studied terrorist and insurgency movements from around the world, and ironically found inspiration in Al-Qaeda, which he touted as "the most successful revolutionary movement in the world." Breivik described the decision to "embrace martyrdom" as the "key to the successful resistance fight".In another bizarre turn which seemingly defies logic, Breivik claimed he had not intended to murder civilians when bombing the government headquarters in Oslo, killing eight. The Oslo bombing was also intended to be the apex of the attack. However, when the building failed to collapse, the Labor Party youth camp became his primary target.On the previous day, Breivik had described how his goal had been to" kill them all" – some 500 people in total – by driving the predominantly teenaged camp participants on Utoya Island into the water to drown.Breivik had previously written off his victims as "traitors" for supporting "immigration and multiculturalism."In another Al-Qaeda-inspired moment, Brevik had planned on beheading the former prime minister on camera.His trial is expected to last ten weeks.If he is found to be sane, Breivik faces a maximum sentence of 21 years in prison. If declared insane, a fate Breivik describes as worse than death, he would be kept in a psychiatric institute for as long as is deemed necessary.
You can share this story on social media: